by Bryce Gray
Dec 09, 2014
Take a deep breath – and pretend it's 800,000 years ago. That ancient air you are breathing is pretty much the same as the stuff you're inhaling at this moment. Except there's a lot less carbon dioxide in it.
We know because we've recovered that ancient air.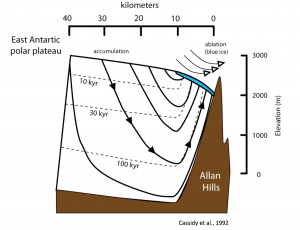 With atmospheric records faithfully preserved in air bubbles trapped in glacial ice, ice core drillings are among the most coveted tools for scientists seeking to capture the climate record – and the CO2 levels linked to temperature rise and fall.
But the record just got a lot older.
Geochemist John Higgins of Princeton University unearthed the oldest relic ice in a million-year-old sample retrieved from the Allan Hills of Antarctica in 2010 and 2011. 
"It predates the oldest continuous atmospheric records by about 200,000 years," Higgins said at the Comer Abrupt Climate Change Conference, where he presented analysis of his findings this fall.
Despite the superlative age of the ice, Higgins said the sample provides more of a "snapshot" of climatic conditions, though it doesn't capture an uninterrupted sequence going back a full million years.
"I would call them snapshots of what the atmosphere looked like at 1 million years ago," Higgins said. "The most desirable thing would be to have a continuous record that went from 800,000 back to 1 million, but because of the nature of the type of ice that we're looking at, it's very unlikely that we'll find these beautifully continuous – I call them layer cake – sequences."
The time machine of the ice cores suggests that, over warm spells between the ice ages during the past 800,000 years, carbon dioxide levels never rose above about 300 parts per million – until very recently. CO2 levels linked to human fossil fuel emissions are currently at about 400 ppm and rising.
Overall, the oldest ice fits the atmospheric CO2 relationships established across the past 800,000 years.
"It suggests the style of variations we have seen over the last 800,000 years indeed carried back to 1 million years," Higgins said.
"The interesting new twist is that we do place new constraints on how high carbon dioxide might've gotten during interglacial warm periods prior to 800,000 years," said Higgins.
"Carbon dioxide is definitely higher in the interglacials 1 million years ago than it was from 400,000 to 800,000 years ago. That's probably the most robust conclusion," he said. But even the highest levels of the CO2 range he's researched so far doesn't exceed 300 parts per million, according to the data he presented.
Higgins said the find of million-year-old ice was made more extraordinary since the core was retrieved from the relatively shallow depth of 130 meters in a spot where ice is pushed upward by the landmass of the Allan Hills. He said that the million-year-old snapshot demonstrates the value of targeting similar ice cores as a cost-effective alternative to deeper excavation efforts, which can delve thousands of meters below the surface.
"We like to call it 'getting old ice on the cheap' and the fact that it has been successful, to me, begs the fact that we should be trying to pursue this more," said Higgins, noting that deeper ice core operations still make invaluable contributions to the field.
Higgins believes that using both methods to extend ice core climate records to the warmer time period of 1.5 to 2 million years ago would be instrumental in developing a better understanding of the carbon cycle's "central role" in regulating earth's climate.
"There are lots of questions about how high was the carbon dioxide when it was this much warmer," Higgins said. "It's a way to try to look at getting some sort of sense for what the response of changes in atmospheric carbon dioxide are or what effects the changes in atmospheric carbon dioxide are going to have on the climate system."