Carp caught at the event will provide data to develop water jets that can keep the invasive fish from moving upstream to the Great Lakes
By Austin Keating, Aug 31, 2017 –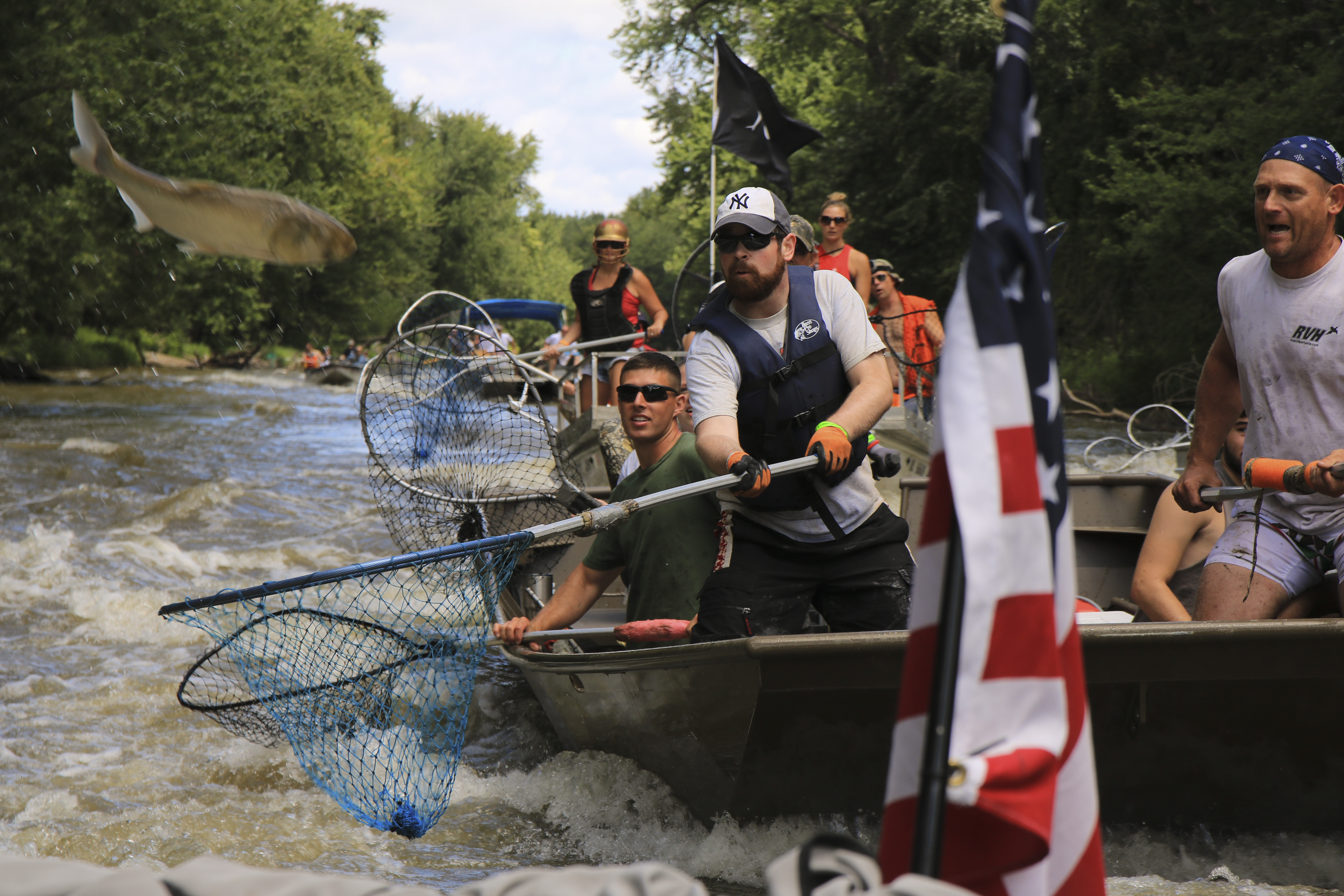 Photo at top: Some of the carp caught at Redneck Fishing provide research that can prevent the invasive species from entering the Great Lakes. (Austin Keating/Medill)
At the annual Redneck Fishing Tournament in early August, teams of Asian carp catchers unload their hauls into a semi-trailer full of the invasive, dead fish.
Most of the harvest went to cat food and fertilizer factories, but several dozen were taken by the U.S. Army Corps of Engineers for study in the battle to keep the jumping Asian carp out of the Great Lakes — where they could spread prolifically and ruin the area's $7 billion fishing economy.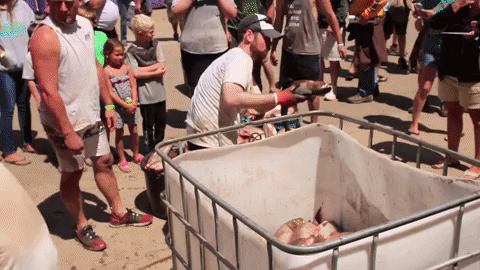 Jan Jeffrey Hoover, a research fishery biologist for the U.S. Army Engineer Research and Development Center in Vicksburg, Mississippi, went to the Redneck Fishing Tournament in the small western Illinois town of Bath to take measurements from the larger carp caught at the event. These measurements will help the corps replicate their serendipitous success at blocking large numbers of Asian carp from the Upper Mississippi River.
"Because the water there is restricted through a series of gates [north of St. Louis], it comes out at a higher velocity — for a relatively short distance — but enough that it's impeded the entry of Asian carp into the Upper Mississippi River. We can exploit that technology, and we can exploit that weakness in the carp's biology, by replicating hydraulic conditions that mimic that flow," Hoover said.
At Redneck Fishing, the race to net the most Asian carp in four separate heats resulted in a catch of more than 2,700 of the fish. The carp that elude capture continue up the Illinois River and are prevented from reaching Lake Michigan by an electric barrier.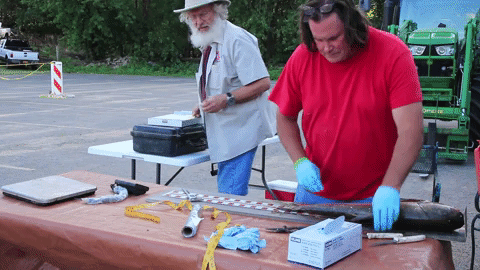 But the corps wants more precautions and recently requested $275 million from the federal government to install jets near Joliet to mimic flows seen in the Upper Mississippi. The corps already has a series of electric barriers in the Chicago Sanitary and Ship Canal, which connects to Lake Michigan. But despite their largely successful track record, a live Asian Carp was recently found just a few miles away from Lake Michigan, according to the the Chicago Tribune. It could have been carted there by a bird rather than jumping the barrier — scientists are unsure, Hoover said.
If funding is approved, the jet-enabled new layer of protection would have to be fine-tuned to keep out silver carp, a greater threat than the bighead carp, both of which are found in the Illinois and Des Plaines rivers, Hoover said. Silver carp, unlike bighead carp, jump when stirred by a wake and noise. They also occur in substantially larger numbers and have higher burst-swimming speeds than the bighead carp.
Both types of carp have gradually inched closer to Lake Michigan since flooding from fish farms in southern states introduced them into the Mississippi River in the late 1970s.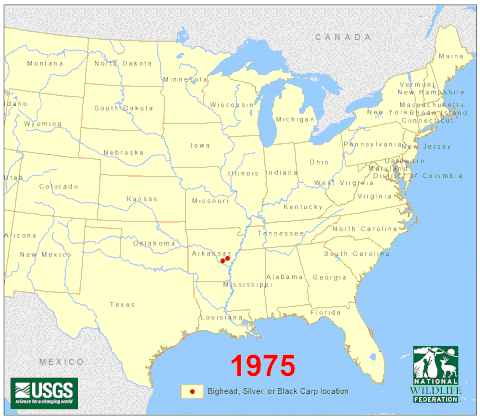 Finding the right water flow to impede Northern Illinois-adapted carp requires data on fish length and weight, which Hoover gathered at the event. He only picked the largest fish because they swim faster.
Having weight and length measurements for the fastest fish will allow the corps to develop maximum water velocities that prevent most carp from moving upstream.
Data are also gathered using water tunnels like this to evaluate swimming behavior and endurance at different water velocities.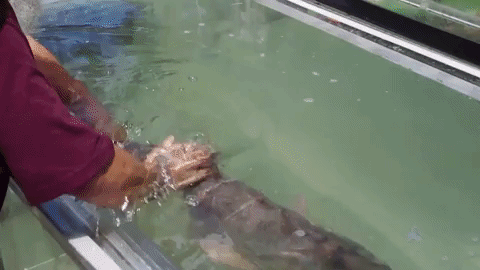 Hoover also collected data that will be useful for lowering the count of Asian carp in Illinois rivers through other harvest events like Redneck Fishing.
"We're collecting measurements on some of the fish they're collecting here. And we're dissecting them to look at their reproductive condition and the stage at which they're reproducing," Hoover said, adding that he also collected bones for age determinations and eggs to establish the number of offspring from individual females.
All of this can be incorporated into a harvest estimate through population modeling "to learn what rates of harvests would be useful in pushing … populations into a downward spiral," Hoover said.
Bath — and its slice of the Illinois River — is a global hotspot for Asian carp. That's why "harvesting events" like Redneck Fishing are so important. Not only does the yearly event help keep the population in this section of the river at bay, but it also gives scientists hundreds of fish to choose from for scientific study.
The weekend-long event in early August brings hundreds of tourists and locals to the small town with a population of about 300. Speed boats full of people holding nets follow pontoon boats that stir the carp with deep wakes, causing them to jump out of the water.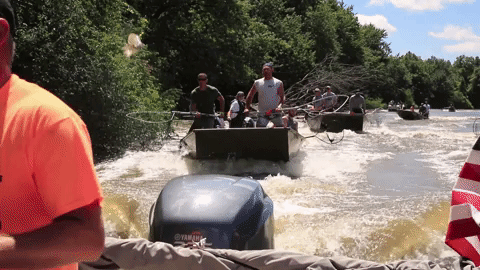 "Asian carp have a variety of impacts, not the least of which is public safety when they fly from the water and strike boaters. But more insidious are the environmental impacts that the species pose. Particularly in side-channels like this off of main-stem rivers like the Illinois and Mississippi rivers," Hoover said. "Asian carp — once they get into a system like this — render it void of zooplankton. And that's a food source for commercially desirable fish."
Hoover added that his research is funded by the Aquatic Nuisance Species Research Program.
Lifelong Bath resident Robin Daniels has volunteered at every Redneck Fishing tournament since the extravaganza began 11 years ago. While they were able to fill a semi-trailer full of the fish, prior years had much larger harvests. The turnout this year was lower, and the water level was high due to rain — making the fish less likely to jump, she said.
"I don't think the carp are as bad because, in previous years, they've caught so many," she said. "I grew up on this river, boated on this river. I would have never thought of seeing a flying fish back in those days. So we've all experienced a big change in this area."
See related story: How Tiny Bath on the Illinois River Turned an Invasive Species into a National Tournament.