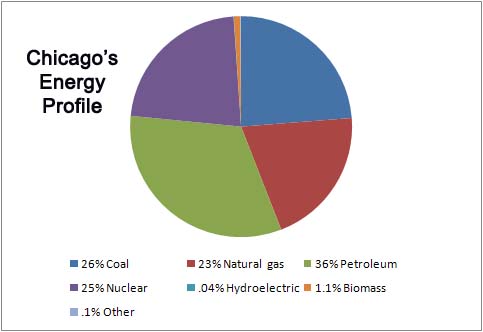 Chicago is home base for the markets needed to undertake President Barack Obama's proposed cap-and-trade system to reduce greenhouse gases and lessen the impact of climate change.
A cap-and-trade system would essentially put a price tag on carbon dioxide emissions. It would allow companies to purchase permits to pollute by trading their pollutants for offsets offered by companies or owners of places such as forests that decrease emissions. The Chicago Climate Exchange provides the market to make the trades.
Companies that reduce their pollutants need fewer offsets, creating financial incentives to cut carbon dioxide, a greenhouse gas linked to global warming. 
Started in 2003, the Chicago Climate Exchange was the first to create a system of legally binding agreements to trade greenhouse gas emissions for offsets. The exchange remains the only institution worldwide that trades in six pollutants that contribute to global warming. And it remains the only cap-and-trade system in the U.S. 
This is what a lot of businesses and corporations have been calling for said Josh Mogerman, spokesman for the Natural Resources Defense Council in Chicago. They are looking for definitive rules when it comes to greenhouse gas emissions so they can take steps to adapt, he said. 
Obama appealed to Congress to create a cap-and-trade system earlier this month, though similar legislation was defeated last year. He also called for wind turbines, solar panels and green-collar jobs to build energy independence as part of the solution for improving the economy. While wide-scale efforts offer new incentives at the national level, Chicago has been making strides toward sustainability for years. 
"There was a lot to love about that speech," Mogerman said. "These are the things that are essential for us to deal with climate change." 
"The city of Chicago has been thinking along these lines already," Mogerman said. The city's Climate Action Plan is a "fantastic document that sets out really bold action." 
Based on findings from a city task force, the plan aims to reduce greenhouse gas emissions 80 percent by 2050 in line with Obama's own goals. Proposed actions range from retrofitting 400,000 buildings for increased energy efficiency to replacing four coal-fired power plants with large-scale renewable energy projects. 
According to the action plan, energy efficient building programs have the potential to account for 30 percent of the city's emission reductions. Suggestions in the plan include providing incentives for trading in old appliances, water conservation and one green innovation Chicago is known for, rooftop gardens. 
Clean energy sources could provide a 34 percent reduction if projects in the plan are implemented, including the upgrades of power plants currently in operation and the development of new solar and wind farms. 
Support for public transportation and smart urban planning have the potential to account for 23 percent of reductions, according to the report. Projects under the transportation section in the plan revolve around not only improving and increasing transportation choices but creating communities that are centered on hubs of transport. 
"I'm proud to live in a city where we are being proactive," Mogerman said. "We are not seeing that level of leadership in other cities." 
"Science is very clear that if we don't change anything and go on business-as-usual, the damages build up and they cost us more than the cost of a fix," said Richard Alley, a climate scientist from Pennsylvania State University. 
With the technology today we could not instantly make the changes necessary for altering our course toward extreme climate change, he said. 
"It's not going to be easy, it's going to take a lot of learning," Alley said. If we "want an answer in a few decades, we need to start now."