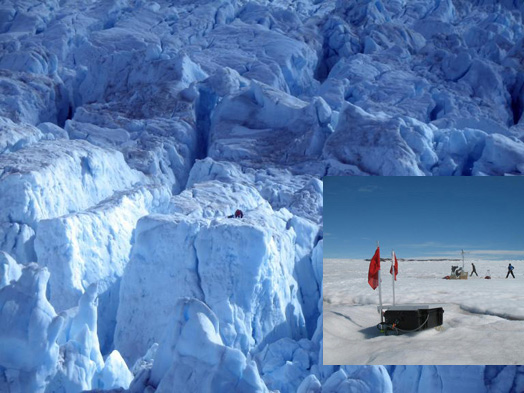 by Noelle Radut
Dec 10, 2008
Climate scientist Meredith Nettles bumps off the Richter scale when it comes to new findings in glacial research.
She spends a week at a time living in remote east Greenland and working on icy Helheim Glacier for her pioneering research that links glacial earthquakes and climate change.
Nettles has tracked an almost six-fold increase in glacial quakes in 2005 as compared with 1993, and almost two times as many events in 2005 alone than in any year prior to 2000.
Nettles comes equipped with seismometers that measure the force of the "icequakes" as shelves of the glaciers calve, or break off, and tumble into the ocean.
"A major focus of our research is actually trying to understand what the earthquakes are," she says. "What it is, specifically, in glaciers that is generating the big seismic waves that we see."
Nettles, as assistant professor at Columbia University's Lamont-Doherty Earth Observatory, has focused her attention on Helheim Glacier for the past three years.
And in 2003, she and a team of scientists discovered a new class of earthquakes. This breed of quakes is closely associated with major, fast-moving outlet glaciers in Greenland and Antarctica. The Greenland glaciers move at high speeds and emit icebergs into the ocean because of their heavily crevassed fronts.
Helheim Glacier is one of Greenland's biggest and among the world's fastest-flowing glaciers.
Nettles noted a "strong seasonal pattern" to the earthquakes in the late summer months of July, August and September, something that's not part of the pattern for tectonic earthquakes on land. "It's not a fracture on a fault in solid earth like a typical tectonic earthquake," she said of the glacial quakes. "They are like a large landslide into the ocean."
With the dramatic increase in glacial quakes in 2005, Nettles and her international team took action. In the summer of 2006, they set up GPS systems, planting them all across Helheim to track glacial tectonic activity.
They visited the site for three consecutive summers, including this past summer, to track the rate of glacial earthquakes and to understand the changes in the quakes that occur with the seasons and the role that global warming plays in all of this.
"What we've learned in the last year or so is that the calving at the front of the glacier is happening at the same time as the earthquakes," she said. "So our best current understanding of what the earthquakes are, is that they are actually the result of the calving itself."
Nettles and her international team are still tracking the changes, but there is evidence, she said, that "the widespread changes in outlet glacier behavior in Greenland appear to be the result of a warming climate."
Nettles said that she and her colleagues hope to unravel the riddles of unanswered questions as they continue to study Helheim.
"Really one of the biggest questions is what is causing the kinds of dynamic changes we see in the outlet glaciers. We've learned a lot in the last year or two years, in particular, the importance of behavior at the calving front," she said. "What initiates those calving events is very much an area of active research. And then the way in which changes in the outlet glaciers affect the ice sheet itself is a big, open question at this point."
Geophysical Research Letters will soon publish research results of Helheim glacier that Nettles recently presented at a climate change conference this past summer.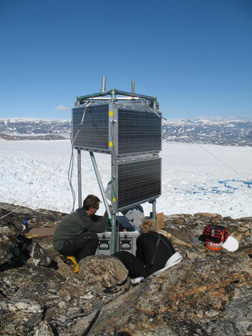 For summer 2009 Nettles and her international team are planning another field season in Greenland at Helheim and Kangerdlugssuaq glaciers. Here they will continue to measure the flow of glaciers in relation to global warming. They will also test out their new and improved GPS systems for high-risk environments.
"It can get pretty windy," Nettles said of the occasional camp-out next to the colossal glaciers, but admits, "It is a beautiful location, so not a bad life!"