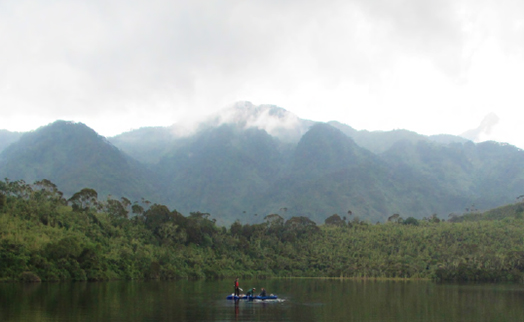 by Jenny Draper
Oct 28, 2013
Africa—the continent for catching a glimpse of lions, zebras, elephants and glaciers.
Yes, glaciers. 
The quest for climate change clues led geologist and paleoclimatologist Meredith Kelly to Uganda last August in search of the missing puzzle piece in global warming research. 
Kelly and her team and 27 porters carried equipment up the Rwenzori Mountains, a place covered in dramatic tropical vegetation.
"It was like being in Alice in Wonderland, I mean it was just like being in a different world. It was very cool. I felt very lucky to be there," said Kelly, an assistant professor at Dartmouth College.
Using satellite imagery, field mapping and clues left by bacteria, Kelly and her team identified "an extensive system of past glaciers." She reported on her findings to scientists at the Comer Abrupt Climate Change Conference held in Wisconsin this month. It marked an extension of seminal climate research into Africa.
The expedition was Kelly's second trip to the Rwenzori Mountains National Park and UNESCO World Heritage Site with James Russell, an associate professor of geological sciences at Brown University. 
For two weeks, Kelly and Russell studied the evidence of long lost glaciers and sediments to figure out what the climate was like in the past to better understand how it could change in the future.
"There are two radiocarbon ages from the 1960s from those mountains and other than that there's basically no information about the age of moraines," the rocky ridges left as glaciers retreat, Kelly said.
Beryllium-10 surface exposure dating calculated the age of the moraines, answering a "big question" because of the past uncertainty surrounding the time frame of the glaciers. Beryllium-10 is an isotope of Beryllium created when cosmic rays strike bedrock, but it only appears when the rock is exposed to air. Predictable rates of decay tell Kelly how long ago the isotope was generated and hint that the rock was covered in ice before that date. 
Russell developed a second technique that uses organic molecules produced by bacteria that live in lakes and soils, Kelly said. Taking a sediment core reveals how the molecules changed due to different temperatures through time. 
"With these two methods together, we can work together and say were glaciers bigger or smaller when it was warm or cold." Kelly said. "That's important because there's a lot of debate as to what is causing glaciers in the tropics to change."
"I think we can really robustly say that the glaciers in the tropics reached their maximum at the same time as glaciers in the mid-latitudes during the last ice age," Kelly said.
Scientists refer to the last ice age as the "last glacial maximum" or a time period of worldwide simultaneous cooling when the size of ice sheets peaked about 20,000 years ago. While still premature, Kelly's initial results seem to confirm Africa cooled at the same time as other parts of the world did. 
Data collected around the world adds to the understanding of the complete glacial chronology, the end goal for most climate change research. 
For example, comparing the climate histories of Africa, New Zealand, Greenland and the Wind River Range, can reveal patterns of change around the planet, Kelly said, which help develop tools to anticipate future global conditions.
Kelly hopes to return to Uganda next summer to finish coring Lake Mahoma and a few more lakes higher in the mountains. The coring rig was too lightweight to access more than a few meters in the stiff sediment.
The hot and rainy weather also makes fieldwork challenging, Kelly said, who is more familiar with working in cold, dry conditions. 
"But in some cases it's actually easier than working in Greenland where we worry about polar bears or have to carry rifles everywhere we work," Kelly said. 
However, one aspect of working in Uganda is "hands down" the most dangerous thing she's ever done in the field.
"Most people get around on these things called boda-bodas, which are motorcycles that you can pile you know one, two, three, four people on the back depending how small you are," Kelly said. "They ride up on the sidewalk and down in the street and around and it's so unsafe. Nobody wears a helmet." 
She prefers walking around the Rwenzori Mountains, staying in a hostel whose profits go back to the Ibanda village for schools and healthcare. 
Yet Kelly's African experiences and enterprising research may never have happened if not for an encounter with Russell a few years prior at an American Geophysical Union meeting in San Francisco, where he spoke about the continent's possibilities.
"I walked up to him after the talk and I said 'Is anybody dating those moraines?' And he said 'No, you want to?' And I said, 'Yeah!'" Kelly explained. "I had never met him before and now we have this great collaborative project together."
Kelly said the story is a good message for students, adding, "If you have questions, ask them. You never know what will come out of them."