By Adam Cohen, October 31, 2017 –
Richard Alley smiled widely, beer in hand, as he welcomed a group of student journalists to the annual Comer Climate Conference this fall. "I bet you all have a cell phone on you," he said. "Don't throw it on the ground!" The students exchanged sideways glances. "It might break," Alley continued. "And that's important. Things break easily."
Things like the Earth.
Alley, professor of Geosciences at Pennsylvania State University, is a world leader among the contributors to discoveries about global warming and one of the scientific community's master communicators. He has written five books, testified before various United States senate and house committees, and authored numerous assessment reports for the Intergovernmental Panel on Climate Change. Alley has devoted his career to conveying the fragility of the complex systems that keep our planet in balance. He now feels it is time for "reframing the discussion" to convince people of the urgency surrounding climate change.
In January 2014, C-SPAN broadcast live as Alley testified before Congress. At one point, the panel got on the topic of prehistoric interglacials – eras in which the Earth warmed without human interference. "Why did it happen then if these same factors that you're blaming it on didn't exist then?" asked Republican representative Dana Rohrabacher of California.
"The ice ages are caused by features of Earth's orbit," Alley responded. As he spoke, he put one finger on the top of his head (the North Pole) and one hand in front of his nose (the equator), illustrating the back-and-forth nodding of the orbit that happens over 41,000-year cycles. "We know what that's doing right now, and it's not [happending] fast enough to explain what we're seeing."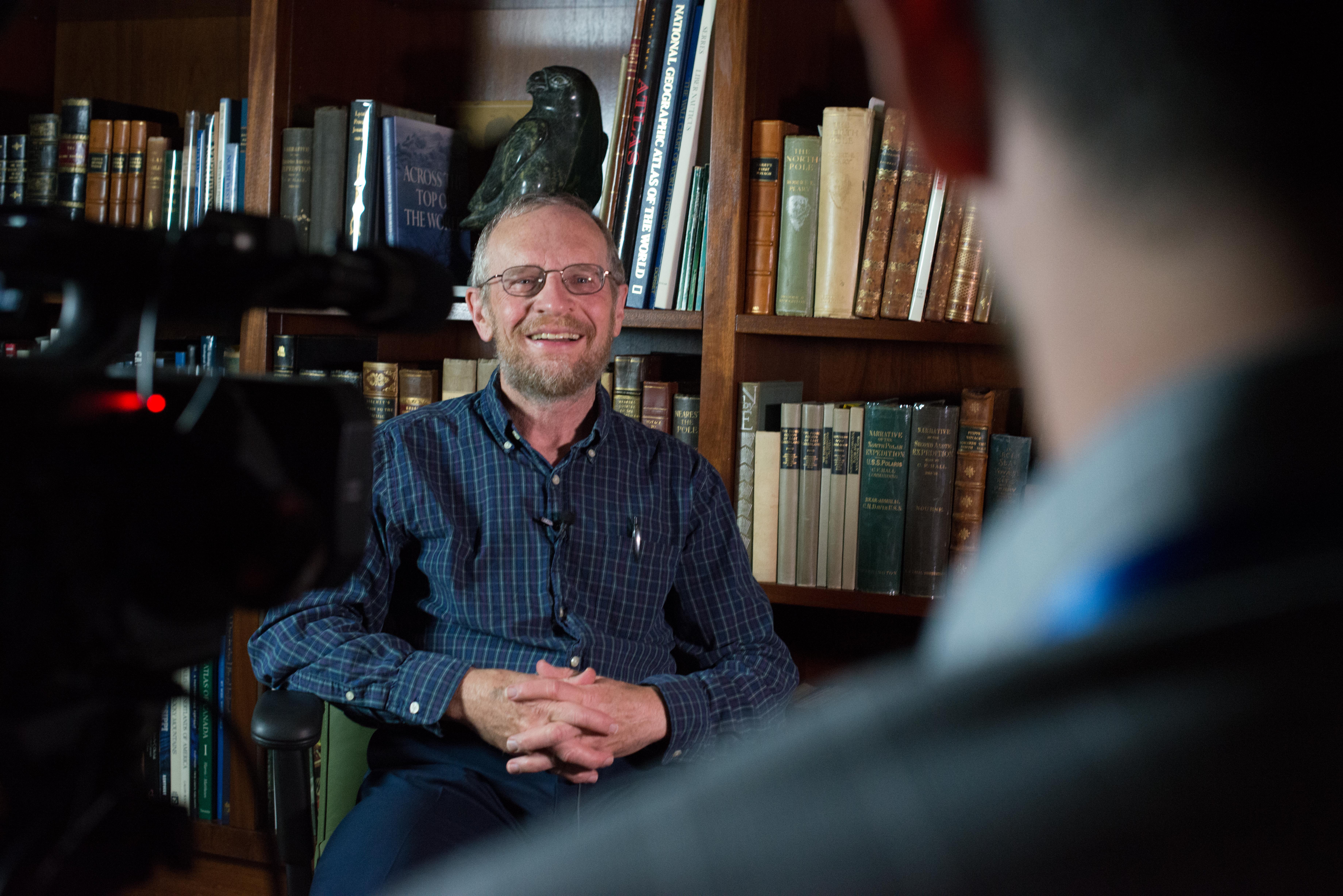 That 30-second sound bite is the topic of the 500-page Earth: An Operators' Manual, which Alley published in 2011. "More and more," he writes, "the processes that made Earth's landscape in the past are not the processes that students observe today, because the dominant processes today are 'us.'"
The majority of the American public has finally gotten the message, thanks to the insistence of scientists such as Alley. A July 2017 survey conducted by the Yale Program on Climate Change Communication shows that 58 percent of Americans "believe climate change is mostly human caused," while "only 30 percent say it is due mostly to natural changes in the environment."
Though he will continue to try to popularize the science – his lesson in plate tectonics set to the tune of Johnny Cash's Ring of Fire and posted on YouTube may be his biggest hit to date – Alley believes we should now devote more of our collective energy to convincing those who already understand the urgency of anthropogenic climate change to take action. Some have an ethical problem with "rich people in cold places burning fossil fuels and hurting poor people in hot places." Others prioritize issues like national security and job creation, both of which would be positively impacted by good climate policy. Alley wants to consider each group separately and use targeted messaging to unite, rather than polarize. "Anything you can think of on this topic – all of them point the same direction," he says.
Alley served as MC, as he does every year, at the conference held by the Comer Family Foundation in early October. He was a good friend of the late Gary Comer, founder of Lands' End. Now, as one of the foundation's science advisors, he helps make recommendations on awarding climate field research grant money from the foundation.
Moving around the airplane hangar where conference sessions are held on the Comers' sprawling southwestern Wisconsin estate in a blue checkered button-down and wool slippers, Alley led the forum with his characteristically unyielding ebullience. "Grab your coffee, grab your chair – we have exciting science to do!" he said between talks on beryllium-10 moraine dating. (Beryllium-10 collects in the quartiz of ice-free rocks struck by cosmic rays once the glaciers have tossed them aside as they lumber away, offering a time machine for pacing the retreat of glaciers.)
At the end of day two, it came time for Alley's closing remarks. He choked up as he wished his fellow scientists a fruitful year of discovery. "I love these meetings," he said, his voice trailing off. "You have a voice because you've done the science."
Photo at Top: Richard Alley in the field. (Photo by Karen Alley for the PBS series "Earth the Operators' Manual)
Related story: Richard Alley talks about how fixing climate will be good for the economy.
Note: Adam Cohen is a Comer Scholar, a Medill scholarship program supported by the Comer Family Foundation to promote graduate studies in environmental journalism.