Aaron Putnam of the Climate Change Institute at the University of Maine is searching for the switches that caused the Earth to lurch out of the last Ice Age. Climate levers are not yet well understood, and "just what the heck" causes them is still a mystery he's hoping to solve in Mongolia this summer. To weave together the clues, Putnam is trying to find data in a remote ice field in Mongolia's Altai Mountains. Putnam was awarded an Early Career Award by the National Science Foundation to pursue this work. Medill Comer Scholar Kevin Stark and Destiny Washington, a 17-year old student at Chicago's Gary Comer College Prep are embedded with Putnam and the research team for the length of the field season and blogging about the experience in these pages.

The final days of a Mongolian odyssey in search of climate clues
By Kevin Stark
Wednesday, Aug. 3. Our journey ends in a science laboratory at the Mongolian University of Science and Technology (MUST) in Ulan Bator.
Three long rows of work benches, science posters tacked to the wall, and rocks piled around the room fill the geology lab, lit by four chandeliers hanging from the ceiling. More than 120 of the rock samples collected by the University of Maine team are piled onto these tables, each in individual canvas bags, information carefully written in black permanent marker on the sides. Clues to climate change lie within, a time machine that traces the retreat of the glaciers with each rock.
Oyungerel Sambuu, a professor at the university, will be helping the team ready all of the documents for exporting the samples. Her students, Ninjin Tsolmon, or Ninjin, and Purevdorj Purev-Ochir, Oochko, accompanied us for the entire field season. They are surveying their own samples—roughly 60 rocks.
Ninjin and Oochko are geology students at MUST, and while their summer project dovetails with the work of our team, led by Aaron Putnam of the  University of Maine, the intention of their work is different.
They are collecting many different types of rocks—bedrock, sandstone, pyrite, malachite, quartz veins, manganese oxide and others. Now that the rocks are back at MUST, they will examine them under a microscope. "Maybe we can find some geologic minerals from inside the samples," Ninjin said.
Ninjin and Oochko are learning how to find and identify metals embedded in bedrock, a useful skill for research or professional work in Mongolia's mining sector. They are looking for metals like copper, iron, and zinc. "This was a very successful field season," Ninjin said. They will also create a map of the bedrock from information they gathered around the Potanin Glacier site.
Oochko and Ninjin will record all of their information and complete a report. Next spring, they present their findings at a competition with other Mongolian geology students from surrounding universities. I ask them if they will be the winner, and they smile. "I don't know," Ninjin said.
I am certain they will have a competitive project, and Aaron agrees. "They did very well, and they are very strong," he said, "It was a hard trip. They did much more than was expected, beyond just the geology, they helped translate, helped with camp. It was great."
Midday, we break for a lunch at Los Banditos, a Mexican restaurant that also serves Indian food. I order a banana lassi and chicken tacos. After a month of eating mostly boiled mutton, the food in UB is a welcomed change for the whole group—even if it's a strange fusion of dishes.
Peter Strand, a Ph.D student at University of Maine, is wearing a blue colored shirt, shorts and sandals. He has scrubbed off the thick layer of sunscreen, bug spray, and mountain grit that accumulated over the month-long field season. He has shaved, but he kept a mustache for several days.
Back at the university, Pete is directing the team, readying the rock samples for shipment to the United States. The group is inventorying and weighing the rocks. Pete needs a bill from MUST certifying that the rocks have no commercial value, and then he'll pack up the samples in big blue barrels.
They need the weight of every sample for an official inventory list to give to the Mongolian shipping company. They also must estimate the value of non-rock items. Aaron told me some nightmare stories of other earth scientists whose precious samples were lost or didn't arrive for over a year.
"That's the nice thing about rocks," Pete said. "They have been sitting on the landscape for thousands of years, a little time banging around in a bag isn't going to hurt anything." But if the samples get mixed or contaminated, they would be useless.
The samples will be sent to the airport in New York, where Pete will hire a person to pick them up a drive them to University of Maine.
One remaining question is what happened to our GPS base station. The most expensive piece of our equipment never arrived in Mongolia from our flight out of the Beijing airport. Today, Aaron went to the airport to see if it had arrived while we were in the field.
"Low and behold, I did not find our base station," he said. "We left today with no resolution to the problem." So that means that it's either in the airport in Beijing, it was sent back to Maine, or it is lost to the ether of the world. "Any one of those three possibilities," Aaron said.  "I'm wondering if the latter option is the closest to being correct."
At the end of the day, our blue barrels are filled, and all the paperwork has been prepared. I see Ninjin and Oochko walking outside with wide smiles, two accomplished students ready to enjoy the last weeks of summer.
For the Comer Foundation's Scott Travis, the trip ending seems to be settling in. "It all worked," he said.
"We are almost 40 days in and everybody is still talking and walking and that's all we could have asked for," he said, laughing.  While the science expedition has been successful, our group survived a challenging field season without any major injuries or real emergencies.
"It's one thing getting them here, it's another getting them home safe and everyone having a good experience and we have all accomplished that and that's pretty fantastic," Scott said.
University of Maine researchers return to a valley of climate clues: 
By Kevin Stark

Wednesday, July 27. A steep decline and a long hike through boggy terrain swamped with mosquitos took us from the Takhilt Valley into the Khoton Nuur tributary valley of the Altai Mountains. The trip's lead scientist Aaron Putnam has explored this valley for clues to climate trigger over the past three summers. Last year, he came with Peter Strand, his graduate student from University of Maine, and together, they sampled granite moraines dating back to the last Ice Age when the glaciers dumped them here and retreated. The climate clues are in the rocks. "This is an important part of the valley," Pete said.
We camped here for several days, primarily flying the drone to collect images for producing high resolution maps. At the University of Maine lab, Aaron and Pete have rock samples waiting to be processed and dated, but "we didn't have a good map, until now," Pete said.
The campsite is quiet and near a thin section of the a tributary river. In the evenings, group members fish for Mongolian grayling. It's delicious, and eating it reminds me of the trout from the alpine lakes in the Sierra Nevadas. There is a climate story even with this fish, as they are usually only found in the Arctic Ocean and waterways that are connected to it. That makes their presence another mystery. "They are completely isolated here, totally landlocked, and we have no idea why." Aaron said.
The drone work in this valley completed, we drove down the dirt valley roads lined with larch trees, the white water of the river rumbling like a train. Soon, we see the Khoton Nuur Lake, an expansive, thin body of water, sharp valley walls rising high in both directions.
From that vantage point, granite boulders are spread out across the ground without any organization. "Where do you sample?" Aaron said. "You could get a date every meter for the entire length." Near the lake, the bedrock is granite, not greywacke like other parts of the Altai Tavand Bogd National Park that we have been.
We reach a series of moraines looking over a collection of biluuts, sections of bedrock terrain that have been molded by glaciers. Pete sampled in this area last year, on rounded, grass covered moraines. He is here to complete the sampling set of the huge ridge of boulders left behind as the glacier melted.
Last year, he was unable to  access a high set of moraines because of a rocky pathway. We stopped to inquire about a road at a local ger, the traditional Mongolian home made of felt and wood. Thankfully, there is a road, and we are pointed in the right direction. Had driving not been possible, we might have had to rent camels or horses again.
We drove to the top of the hill and camped near a thin stream. After preparing our camp, we hiked over the moraine ridges that spread out from the mountains like the ripples of the lake. Our intention is to explore and plan for a few days of sampling.
At this new location, local children kept coming to visit us, sometimes in pairs—the braver ones leading the way. We gave them candy, sweets, pens and pencils that change color when you hold them in your hand. Aaron packed them with the kids in mind.
The hike up to the Potanin Glacier and back is a well-traveled backpacking route for international tourists, so our crew carrying rock drills and drones was not that exciting.  "We are off the beaten path, and back in the land of curiosity," Aaron said.
Early in our stay here, we walked to the highest moraine in this area, and a new landscape emerged. It's filled with glacial debris, a ground moraine with a terrain that reminds me of the terminus of the Potanin Glacier.
From this vantage point, it's a chaotic morphological feature, but from the satellite images that Pete and Aaron studied before the trip, this was completely indiscernible—another reason it is so important that our team will be capturing drone footage.
The sampling was easy and, for the most part, so did the drone work. At one point, the mapping application crashed when the drone was more than a kilometer away from our camp.
Fortunately, the Comer Foundation's Scott Travis landed it, and the drone was found after a short search.
We left the Khoton Nuur tributary valley in cars, stopping in a small town to eat dumplings and drink milk tea. From here, it was a several hour drive back to what Aaron and Pete believe is the last glacial maximum of the Potanin Glacier, or the Potanin LGM, as we fondly call it. It had stormed the night before and our caravan  stopped several times when trucks stuck in the thick gray muck.
At the beginning of the trip, we stopped here for a short time, so it's full circle for us now. From our make-shift breakfast table, we could look down the valley framed by towering red rock hills. In the evening, the light here is silver, the hills seem soft, and what little vegetation there is will almost glow. The red of the mountains is similar to places in the American West, Utah, Nevada. "This is Asia's West," Aaron said.
Over the next four days, University of Maine graduate student Mariah Radue will be leading the team, mapping all of the moraines and getting samples from the most prominent ones. Before the trip, she identified what is likely a major glacial advance and a major recessional—she wants samples from both. Also, outboard of the prominent moraine, there are ears from previous advances. "It would be great to pin down the dates," she said.
These days mark the last leg of our field season, and the crew is looking a bit wild. Aaron's blue eyes seem to gleam brighter, everyone's skin is hard and covered in mosquito bites, dry from the sun. I have sun spots on my fingers – bumps resulting from many days in the hot sun.  Our food supply runs low, and we are eating sardines and dry bread, along with our coffee and tea. But everyone is happy and healthy, looking forward to a hot shower at a hotel in the city of Ölgii, before our five-day drive back to Ulan Bator.
The 10-mile hike to 10,000 feet test us humans and our camels
By Kevin Stark
It's a chilly morning when we leave our campsite at the Potanin Glacier and hike back into the Tsagaan Gol Valley. My tent is coated in a thick layer of frost. I eat some bread and jam and drink coffee and let the tent dry out before packing up.
Mentally, the group is preparing for our trek over the Takhilt Pass or, at least, very near it. It's unclear if we will hike the pass or another route. Our imagery of this part of the Altai Mountains is poor. This stretch of our trip will be a physical test for us – humans and camels.
It's approximately a 10-mile hike over the pass, and we'll climb grueling switchbacks to altitudes higher than 3,000 meters (nearly 10,000 feet)—higher even than the glacier.
Peter Strand, a University of Maine Ph.D. student, will be leading the next part of the expedition. We are taking this route so that he can sample boulders in the Takhilt Valley, building on his work in the nearby tributary of Khoton Nuur.
Last year, Pete and his advisor, University of Maine's Aaron Putnam, were able to sample moraines in this tributary, which they believe date back to the last glacial maximum. The melting glaciers dropped the mammoth trails of rock that make up the moraines like so many pebbles. In the nearby, Tsagaan-Sol valley, they were also able to sample rock deposited by glaciers that is different than the local bedrock.
Putting these pieces together, Pete and Aaron can track the retreat of the glacier from the last maximum to the modern day. In most glacial valleys of the world, this would never be possible, and it's why our group has traveled so far. "It's particularly interesting and it's why we are taking the time to drone this area," Pete said. Tracing climate change in the past can give clues to what we may be facing with climate change today.
This year, in the Takhilt Valley, Pete is hoping to sample what he believes is a young Holocene moraine. The Holocene marks "modern" times aross the last 10,000 years. With new information from this area, he can compare the climate signals.
Before we hike the pass, we walk the same route down from the glacier into the White River Valley that we traveled a week before. From here, we catch a ride into an adjacent valley, where Gantuaga lives with his family in a ger.      
Gantuaga (our group calls him by his given name, Ganna) is the owner of our rented pack camels. Traditionally here in Mongolia, individuals do not often have family names. People are addressed by their given name, and a person's full name consists of the name of the person's father and then their given name, in that order.
Ganna has a wide smile. At Potanin, he took an interest in our drone work, helping us with landings. He even rode his horse in circles around our camp as the Comer Foundation's Scott Travis practiced using the tracking and video functions.
The day before our hike over the Takhilt Pass, Ganna invites us to his home for a small feast. His ger is large enough to fit our entire group. We eat fresh cheeses—one is like a hard provolone, one like a fried farmer's cheese—and rolls. I play a game with four small bones and a felt board.
Manaljav—or as he is called by the group, Manlai—our camp chef, and Ganna's daughter take turns playing a horse head fiddle. It's a beautiful sounding instrument, pitches can be easily manipulated.
Ganna passes around bowls of fermented milk and a clear, distilled liquid that translates to the phrase "horse wine." It's somewhere within the parentheses of sake or vodka. After a few sips the room seems to take on a new brightness. "It was priceless to be able to share that moment with Ganna and his family," Scott said. "It was one of my highlights so far."
We retire, stealing strength for the morning hike over the pass. The next day, we leave mid-morning and walk through a small community of gers—Ganna's neighbors. Herds of goats, yaks and some horses separate as we move through the foothills. Soon, we are winding up a camel trail surrounded by dwarf birch shrubs.
Ganna leads our hike with the team of camels, packed down with our sampling gear and food. After a short walk, the shrubs are replaced with craggy bedrock. Hours later, we reach a bowl at the base of the summit pass. The trail is a white line in the black bedrock, snaking up to the peak in sharp cuts back and forth.
Before ascending, we break for a lunch of pickles, potatoes, carrots, rice and fresh mutton. The meat is juicy and more flavorful than what we have been eating.
Ganna is already halfway up the switchbacks by the time we finish lunch, whistling and kicking the reluctant camels along. "This reminds me of the Himalaya's," Aaron said. "Having to prod the horses up the hill."
It takes us a slow hour of hiking to reach the peak. Down the backside, we descend into a valley of wild flowers—small onions with purple straw blossoms and chives.
Manlai encourages me to chew on one grass; it's savory, like a salty celery stick, and it has a flavor similar to the sour grass that's common in Northern California, citric and sweet. I realize later that it was wild sorrel.
The valley floor is bright with yellow, purple and blue flowers. I recognize more poppies, but these are taller and with different colored petals than the ones I saw on the moraines near Potanin.
And the rock in this valley are darker and more weathered, with thick layers of lichen; Pete tells me there are several reasons for that. The bedrock here is a type of rhyolite, and, as soon as we came over the Takhilt pass, we entered a new climate regime; it's wet.
"The grasses change," he said. "There are juniper bushes and other shrubs, and the flowers are a lot bigger."
The day after hiking the pass, the group separates. Pete leads the science group to sample boulders in an adjacent Takhilt Valley, while others stay back to rest sore knees and wash clothes. I stick around camp to type up my notes and organize my photos.
It rains for most of the day, and I work from my sleeping bag in my tent, taking breaks to eat warm soup and drink hot chocolate. Pete and his team are up higher in the valley, struggling.  The boulders are not right for sampling. "The morphology is beautiful," Aaron said. "But the glacier just wasn't good to us. It didn't leave anything of use behind."
At that elevation, it's sleeting and starting to snow. "It's the most dangerous condition," Aaron would tell me later. "It's the perfect condition for someone to become hypothermic." If the temperature were a few degrees cooler, it would snow and the group wouldn't be so wet, though.
Fortunately, no one freezes. We eat a dinner of slow boiled lamb and rice, flavored with barbecue sauce. The next morning, the rain comes in waves. Pete finds a glacial moraine close to our camp and we sample for near the entire day—breaking only when the rain is coming down in thick sheets.
"We did pretty well," Pete said. With the samples he collected on our last day in this valley, "we will be able to tell when the snow-line rose to roughly the Little Ice Age (1300-1850 A.D.) and we found a moraine ridge." Samples from the ridge will illuminate when the glacier's ablation zone equaled the accumulation zone—when it was at a state of equilibrium.
Soon, we'll be leaving the area around the Takhilt Valley, so beautiful with it's wildflowers. Still, I'm looking forward to entering the Khoton Nuur tributary, where the landscape is wide open. We will also find the Tsagaan-Sol Gol, a different river that flows white with glacial silt. Aaron tells me that the rivers are teaming with Mongolian Grayling, which make a nice meal and an alternative to boiled lamb.
I can tell that Aaron is looking forward to this valley, for the fishing, but also for the science. Peter sampled the moraines in this tributary valley extensively last year, but he would like better images to produce quality maps. We'll spend several days collecting images with the drone.
"This holds the secret to abrupt climate change," Aaron said, only half joking. This tributary valley is important, and it could hold a key piece of information. Information that could help solve the mystery of the demise of the last great Ice Age.
I learned these important life lessons in the Altai Mountains
By Destiny Washington
Over the past weeks in the Altai mountains of Western Mongolia, I have been camped at the Potanin Glacier and the Khoton Nuur Valley. I have learned some very important life lessons. They include:
–Avoid stepping on wet stones in rivers. You will slip and fall.
–The best way to prevent blisters is to bandage them as they first form.
But I have also learned how the location of the rock can tell us about the movement of the glacier. University of Maine's Aaron Putnam is the head scientist for our trip and he explained this to me in great detail.
Some granite rocks contain quartz and that is needed to perform the surface exposure dating. Some rocks fall off the glacier earlier than the glacier can form a moraine, the ridge of rocks left behind as the glacier retreats.  The boulders that fell away from the moraine are erratic and raise the question of whether they are older or younger than the moraine.
It would be impossible to tell by physically examining the rock because boulders change over time., Some develop lichen while others don't develop as much lichen. The development of these features don't define the age, but it defines the activity of the boulder. Lichen develops on inactive rocks – the ones that stay in place. The only way that we can determine the age is by taking samples of the quartz in the boulders and in the moraines.
I've made progress on my part of the expedition by successfully completing my GPS mapping. I was given a trimble—a device for finding GPS coordinates—and Mariah Radue, a graduate student at the University of Maine, taught me how to use it. We collected points as we walked in five meter intervals. We did that along the visible part of the moraine at the on the unit the Potanin Glacier.
For sampling, we examined the boulder first. We had to see if it had the important qualities for sampling. Did it have a smooth polished surface? Did it have a quartz vein? That's what we looked for. Then we took a rock hammer drill, and I would drill a few holes at an angle in order to take the sample using a hammer, wedges, and shims. I'd hammer the wedges in until the rock came loose. If you hit it the right way, the boulder made a nice cracking noise, like you are breaking a stick. It was oddly satisfying.
What I find most interesting is the process by which the boulders came to rest in their current location, due to the glacier. A boulder can be dropped off by a glacier, and the glacier could stop melting around the time it drops the boulder. This can change the landscape. When the glacier drops the boulder, the timing can determine if the boulder falls on the moraine or off the moraine. And we can use this information to determine the age of both the boulder and the moraine. It's interesting to think about how the landscape changed.
All of these lessons will stick with me for a very long time, and I think they'll make it easier to explain my results in my presentation. Now, the idea of what we are doing is really sticking to my head. I can explain why the boulder might have a different age from the moraine. Also, the the next time I go to the wilderness, I'll know not to step on wet stones or other places that could accidently hurt me.
My adventurous student can tackle the glaciers – but please hold the dried curd
By Jessica Stevens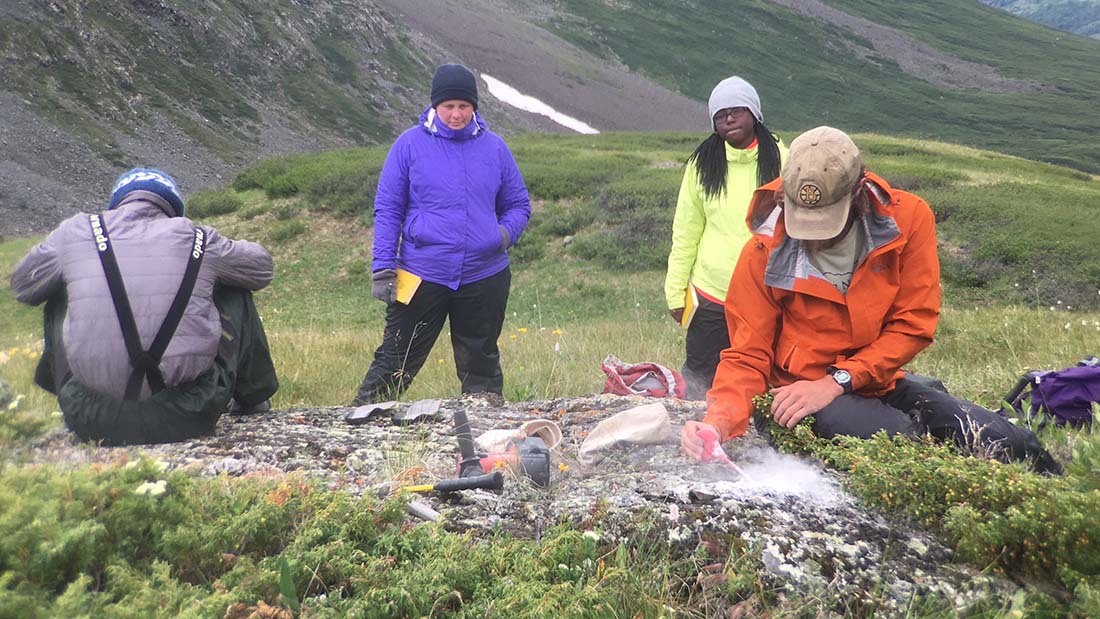 Destiny Washington knows how to handle a trip to Mongolia. She is a 17-year old student at Gary Comer College Prep where I'm an environmental science teacher. I was asked last spring to choose a junior to accompany me on a research trip to Mongolia. She's been eating new foods without complaint — sour cabbage, yogurt, even lamb's tongue, cheek and ear. She said no to the dried curd ("My stomach didn't want to eat dried curd," she said) and a few other foods. She made the most hysterical faces and politely said, "I don't think that's for me."
Taking this trip with a resilient and adventurous student of mine has made the journey so much more enjoyable for me. The most difficult challenge that we have put to Destiny is a 10-mile hike — at an elevation of 10,000 feet — at the site of the Potanin Glacier. We learned how to check for blisters and breathe at high altitude—the Comer Foundation's Scott Travis told us to exhale deeply, to exit all of the carbon dioxide from our lungs and create space for more oxygen. I knew that this was hard on Destiny. "It was terribly long," she said "I didn't know where anything was." Still, she seemed to have fun with it.
How did we end up here? Last March, I had a meeting with the principal of our high school, Estee Kelly, about my position for the next year. I would have been happy to know that I was teaching environmental science for another year, but Ms. Kelly asked me if I would take a Comer Student to do climate change research in the Altai Mountains in Western Mongolia.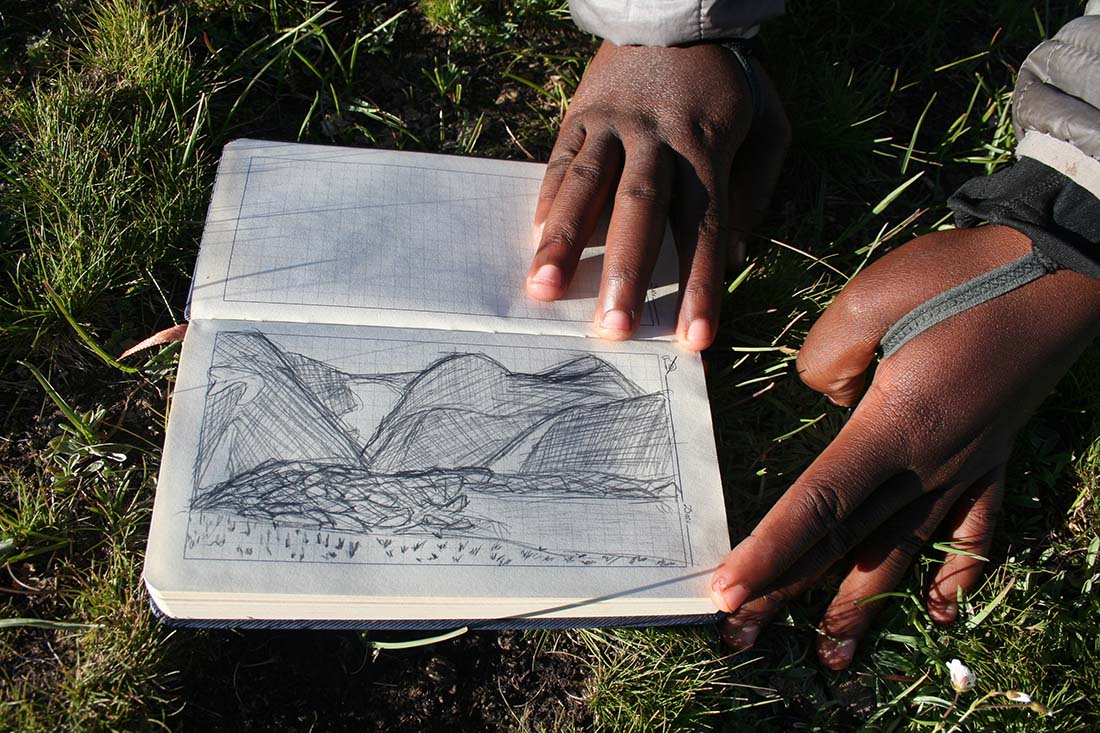 I knew that this experience would change one scholar's life for the better—I know from experience that traveling encourages personal growth, and getting to perform scientific research in high school could provide a student with the drive to pursue science as a profession, to do great things. I picked Destiny Washington. She has great potential and was interested in completing her own project—she will investigate the differences in the amount of time it took a glacier to retreat in the Altai Mountains in Western Mongolia during different periods in history. She will test the role that increased levels of CO2 in the atmosphere have played on the melting glaciers.
The trip leader and head scientist Aaron Putnam has been helping Destiny with this project. I first met Aaron a month after I learned about the Mongolia trip. The administration asked if I would allow a guest speaker.  I was hesitant, considering my fourth-period class had a lot of big personalities, but I agreed.
Teachers at Gary Comer College Prep are busy, and so no one told me exactly who the speaker would be. It was Aaron, the leader for our Mongolia trip, as I found out in my meeting with him after class. My class was so caught up by Aaron's enthusiasm. He had them pass around a 24,000-year-old piece of wood and talked about glaciers. My class asked questions that made me proud.
Aaron's been great with Destiny on this trip, too. He asked her questions about the formation of the landscape and helped her form well-crafted scientific answers. She had the opportunity to ride a horse for the first time. We were crossing a stream and she tasted fresh meltwater from a glacial stream. "It was fun," she said.
The proud smile on Destiny's face when we finally made it to the glacier made the trip more than worth it for me. "I definitely felt a sense of accomplishment," Destiny said.
She did all of this with good humor and without complaint; well except about the flies. Destiny really hates the flies.
Coming face-to-face with the Potanin Glacier
By Kevin Stark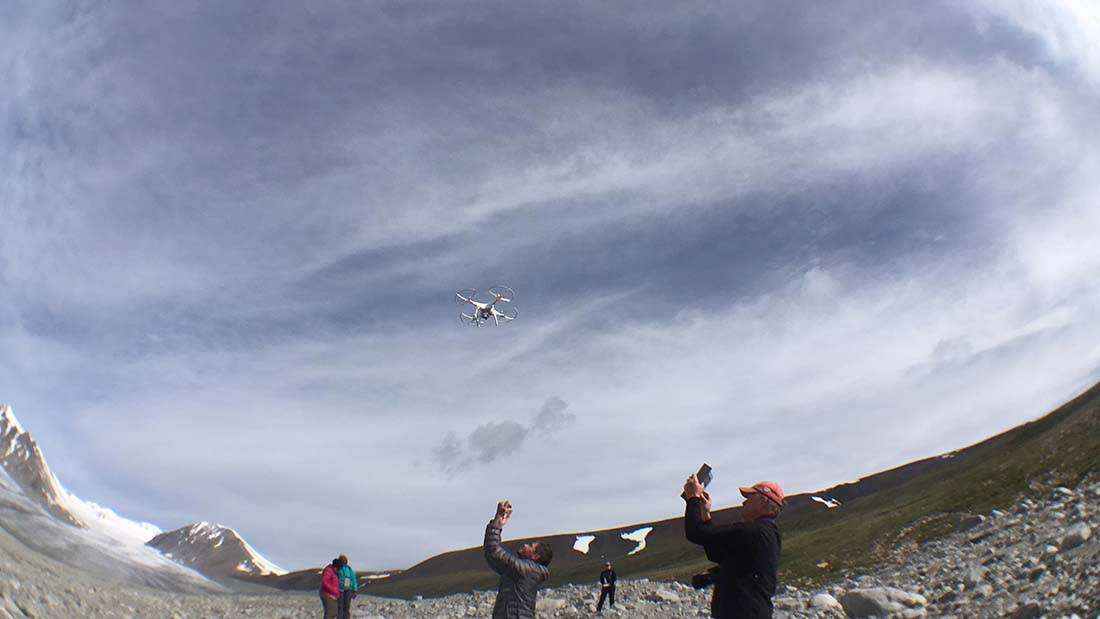 July 13, 2016. It's a day's hike up the Tsagaan Gol Valley to the Potanin Glacier, journeying roughly 10 miles along a horse trail. Our guides ride horses, along with Mariah Radue, a graduate student at the University of Maine. She is comfortable on horseback from years of riding. "The horses are sure-footed," she said.
The camels are loaded with drones, drills, bags of potatoes and rice, and backpacks. Camels can carry twice as much weight as a horse, up to 660 pounds. But it's slow hiking—the trail is steep and we are adjusting to a higher elevation—even with the camels carrying most of the gear. We stop for a lunch of sardines, tuna and bread by a stream.
Mariah will be leading the field expedition for the next week. She will be analyzing the granite samples collected from this part of the trip for her graduate work. "The Tsagaan Gol Valley gives us another example of deglaciation from the last glacial maximum (18,500 years ago) to pre-industrial times," she says.
After hiking most of the day, we reach a pass between two mountains and come face to face with Potanin. From the perspective of Mariah and glacial geologist Aaron Putnam, her advisor, this is a rare opportunity. The valley is a nexus of geologic formations. Thousands of years ago it was completely covered in ice—there are several moraines of rock that formed thousands of years apart as the glacier retreated and discarded huge ridges of boulders in its wake.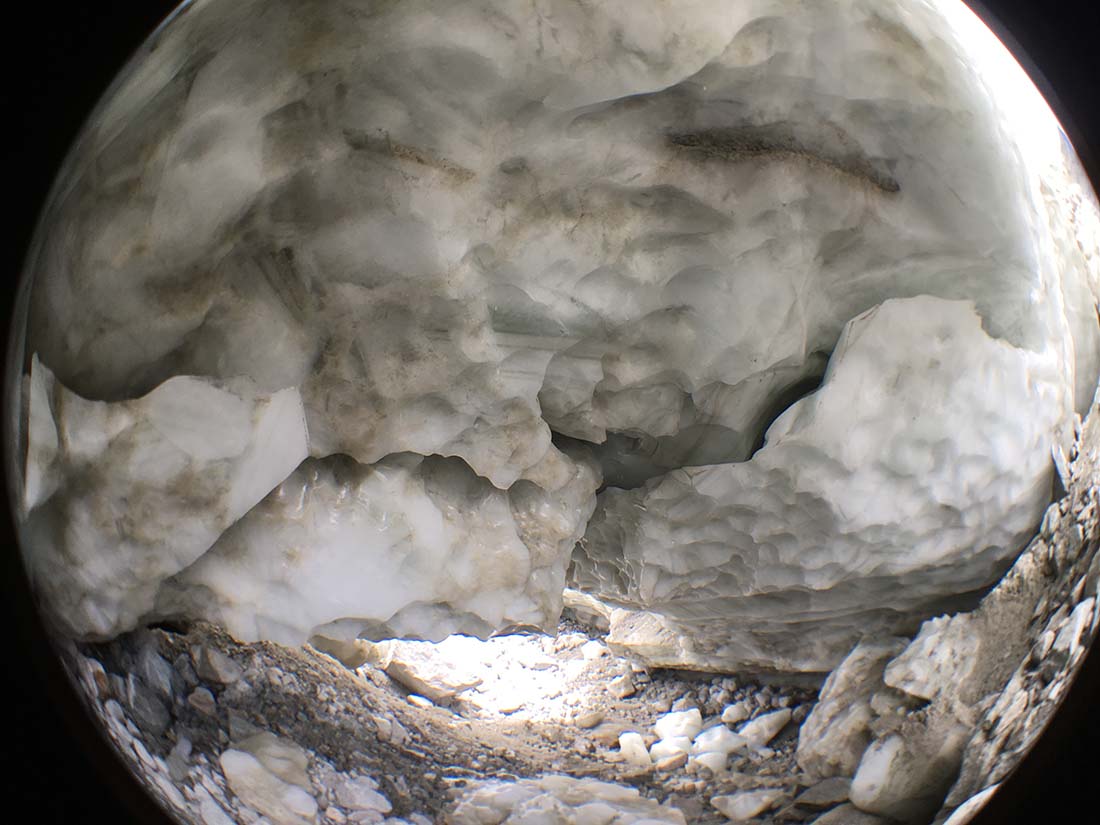 It's likely that one moraine formed during the Holocene (the last 10,000 years), another during the Little Ice Age (from 1300-1850), and both are positioned right next to current glaciers—at least, that's what Mariah and Aaron suspect. The contrast is remarkable.
"It's glacial geologist eye-candy," Mariah says. "We are dating the moraine in a setting where the information is wonderfully preserved." Mariah will take granite samples back to the University of Maine and apply the beryllium-10 surface-exposure dating technique to determine how long ago the rocks broke free from the retreating ice and were deposited here. Beryllium-10 collects in rock exposed to air due to cosmic rays bombarding Earth's atmosphere.
The oldest moraine is grassed over and has been rounded into a rolling hill by thousands of years of rain and wind. The younger moraines are jagged, comprised of granite boulders, rocks, and cement-hard glacial silt, with little vegetation.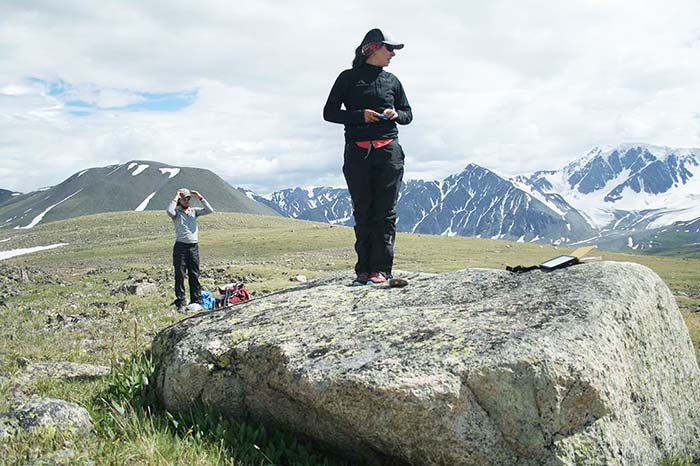 Our campsite is a short hike from the glacier. We are camping at an altitude higher than 3,000 meters (9,843 feet).
Thankfully, the drone is fully functional—in large part as a result of patient troubleshooting by the Comer Foundation's Scott Travis. Each morning is spent capturing images of the valley, which Mariah will transform into high-resolution maps.
"The pictures tell the story of the glacial history of this valley," Mariah said. "There is so much value in understanding a complex landscape from the air. You can pick out patterns that you cannot see from the ground."
Thin blue rivers flow along the face of the glacier and there are only a few peaks that are still covered in snow from winter. One day, I scramble down to a tongue of the glacier, at the base of the young moraine.  Granite is piled all around me. Much of it has been cemented into place by glacial silt. In the tongue, I can see there is an ice cave forming, but it's getting late, so I decide to come back the next day to shoot photos.
When I go back, dark storm clouds are forming in the distance. A few times I step in the wet silt, sinking up to my shin in the gray sludge. The puddles are the glacial equivalent of quicksand, so I try to walk only on the hard granite rocks.
I shoot a few gray photos. Then I'm back in camp in time to have a cup of coffee and hole up in my tent, the thunder clapping above. I plan a pre-dawn adventure to take photos with the morning sun shining into the cave.
Meanwhile, Aaron, Mariah and Scott are flying the drone each morning. Aaron is releasing and catching it, his coffee thermos resting uncertainly on a granite rock at his feet. After breakfast and droning, the group spends the rest of the day sampling rocks.
Mariah is getting great images and samples. By the end of our week, she'll have more than 40 pieces of granite to analyze. "There is a specific order that things need to be done," Mariah says. The group is getting into a rhythm. "When one person is done drilling, the next person is on the rock with a GPS." Mapping the retreat of the glaciers from this composite of data means filling in the clues to where our climate is heading today and how fast it can change.
On one of our last mornings, I get up at half-past five in the morning to get photos of the cave. I eat a quick breakfast of dry cereal out of a pink plastic mug and drink coffee on the way to filter water from a runoff stream. My tent is covered with a sheet of frost, and my wet hiking socks are frozen enough to clap together.
I reach the tongue in time to see the sun slowly descending down an auditorium of ice. It's cold. My cell phone camera won't take photos until I warm it up inside my wool gloves tucked under my arm.
Despite the cold, as soon as the sun hits the glacier, small rivers of water start dripping off the ice. During the thunderstorm, rain cracked off a slice of the glacier and the entrance of the cave is partially blocked by a hunk of ice. I'm happy that I wasn't under the wedge. I take a breath and move on to shoot photos of the melt river before joining the group for morning droning.
As we prepare to hike back down to the Tsagaan Gol Valley, the group is in high spirits.  We'll re-supply before hiking into an adjacent valley for more sampling. Mariah's week at the Potanin Glacier was incredibly productive, and she'll spend the next two years analyzing rocks collected from these moraines.
MAPPING THE TRACKS OF A GLACIER ACROSS 18,000 YEARS
By Destiny Washington
Traveling from the United States to China to Mongolia was exhausting. Between emotional exhaustion from saying goodbye to my parents—Valerie Washington and Byron West—and the physical exhaustion from flying for two days, I was extremely tired. It felt like I was in a permanent state of not knowing what time it was and wanting to sleep. Like, a lot.
But arriving in Mongolia has been a great experience. Especially since my team is full of interesting and funny people. They encourage questions and are willing to listen to any problem — and there are a lot —  bothering people. They also take care of one another and worry about each other.
For example, on the drive to the Altai Mountains, Peter Strand (he's a leader on this trip and a Ph.D. student from University of Maine) asked us to consider how the landscape formed in Mongolia. This was a hard question. I didn't know but I made a guess.  We saw sand dunes and I thought they might have formed from overgrazing cows and horses and other livestock. We never established a full answer, but this question framed our thinking for the trip.
I haven't had the chance to study environmental science. I am unaware of a lot of the rock formations and what they mean for the environment, but Aaron Putnam, the lead scientist for the expedition, has studied Earth Science. I spent a lot of time with him in the car and he taught me quite about the rocks and their formations.
We were passing rocks near a volcano. He pointed them out and gave them the names Pahoehoe and A'A. They were Hawaiian names for volcanic rock. A'A rocks form a jagged point and jut up into the sky because of how they were formed. Pahoehoe is a flatter rock, which suggests that the magma cooled over the land and didn't crack and break.
I'm expecting to learn how long it took the glacier to retreat in the Altai Mountains in Western Mongolia. I want to test the relationship that increased levels of CO2 in the atmosphere have to the melting glaciers. Scientists link CO2 levels, global temperature rise and the glaciers – one theory is that the more CO2 in the atmosphere, the faster the glacier will recede. To test this myself, I will track the glacier starting at the glacial maximum of the last Ice Age (roughly 18,000 years ago) using GPS mapping.  The mapping will track the rate of recession over time. I'll be sampling granite boulders found in the glacial moraines. The boulders were left by a retreating glacier and they are the best way to track the age of the glacier.
I am nervous because I'll have to present the findings of this expedition in San Francisco at the American Geophysical Union conference later this year. The reason I'm nervous is that I don't know a lot about what I'm presenting. Yet. So, I'm picking up important details of what I need to cover in the presentation. How do I talk about this without making it seem like it's final? And, how do I explain why we study the boulders that we selected? I want to present the findings in the best light that I can. Even though I'm new at this, I know it's extremely important to document climate change.
I'm glad that I'm here. This expedition is fun, and I'm excited to be part of it. I was worried that the scientists would be stuck-up, but they are actually pretty hilarious. Everyone is funny in their own way. With this team, this expedition will be a breeze or at least a fun Sudoku puzzle—challenging but rewarding. Either way, it will be a great trip with plenty of samples that will hopefully tell us the rate of recession of the glacier.
COSMIC RAYS CREATE CLUES TO A GLACIER'S RETREAT
By Kevin Stark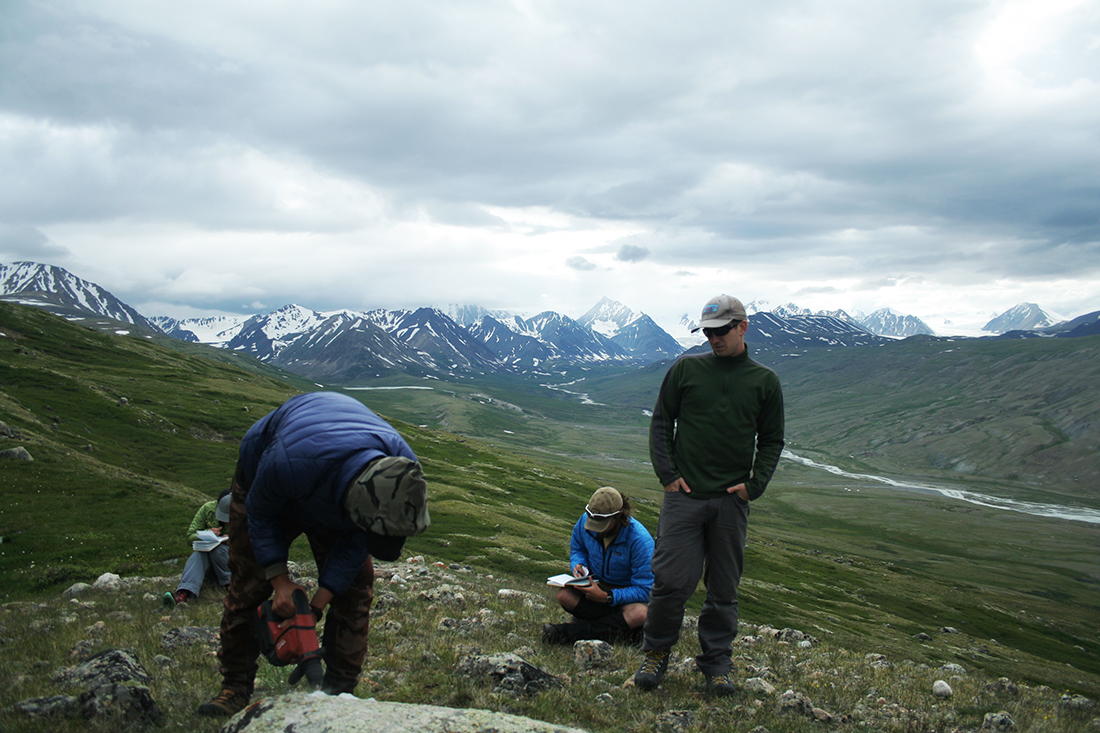 Wednesday, July 6 – After several days of driving, we arrive at Tsagaan Gol, spend the night and prepare for our first field day. University of Maine's Aaron Putnam and his team of graduate researchers will be reconstructing the history of Potanin glacier, just up the valley. They'll be uncovering clues as to what caused the abrupt climate event that led to massive glacial melting at the end of the last ice age.
It's our first day in Mongolia's Altai mountains. We eat lamb stew and drink coffee as the sun warms our campsite. We are expecting seven camels and two horses to arrive. They will assist the 12 of us across rugged mountain trails.  We all rode camels at a rest stop on our cross-Mongolia road trip, but we will be using the animals now to carry gear, not people.
Our first leg should take two weeks—our plan is to hike to the Potanin glacier from the river valley in the Altai Tavand Bogd National Park. The water in this valley is milky white from run-off. Glaciers pulverize rock into a powder so fine that it's suspended in the river water, and it doesn't settle to the riverbed like sand. That's why the water looks so milky. It's beautiful. I drink coffee listening to the quiet roar of the river below.
By 9:30, the camels have not arrived and Aaron and Peter Strand are looking down the valley pensively. A delay now could eat away precious time for sampling, and the weather forecast for tomorrow is predicting hail and rain. While we're waiting, Peter and Aaron give a workshop on collecting high resolution GPS data. Satellites drift, which can lead to imprecise field data. So the team establishes a base station that will constantly take readings for correcting the data later.
By 11 a.m., still no camels. Pete makes the call to salvage the afternoon and sample the moraine ridges down valley from our campsite. We've lost half a day and we'll likely lose more time to the storm tomorrow. Aaron tells me this is the standard, not an exception. "I just try and relax," Aaron said. So much is out of our control. We finish lunch, and prepare to leave when then our camels appear on the horizon. It's too late for us to pack and hike for the glacier, so the team settles for half a day of sampling in the valley.
To determine how the glacier has fluctuated in the past, Aaron and Pete will map glacial moraines, ridges of rock debris discarded by a glacier. The rocks were left behind after the glacier retreated — just when that happened is a question they seek to answer. The moraine ridges we will be hiking over are the edges of where massive chunks of ice vaulted skyward when the climate was colder thousands of years ago.
Researchers like Pete and Aaron collect surface layer samples from polished granite boulders to discern the age of the moraines. They apply an isotopic method called beryllium-10 surface-exposure dating. The granite rocks we will be sampling—some as large as the largest American SUV—were once suspended in ice. The glacial ice melted and deposited the rock on the ridge. At that moment, the granite became exposed to a flux of particles created when cosmic rays from outer space collide with Earth's atmosphere. The particles bombard the rock and affect oxygen and silicon in quartz, creating a cosmogenic byproduct called beryllium-10. These atoms accumulate in the rock surface and can be measured to determine how long ago the boulder was freed from the ice and dropped on the land.
Pete drills into the top of a boulder with a rock drill. He places wedges into the holes and methodically hammers them into the granite. Each hammer swing chimes with a pitch higher than the last. "It's like playing a musical instrument," Pete said. The rock begins to crack and soon he pulls away a plate-sized section of rock. Each sample is roughly 500 grams and 2 centimeters thick.
As Pete drills away, Aaron tells me that the wedging is "iron age technology."
"It dates back to the Romans if not earlier," he said.
The rock samples will be sent back to the University of Maine. "That is where they will be tortured," Aaron jokes. They will undergo chemical processing by Aaron and others. Once dated, these samples can reconstruct glacier movement and the researchers can draw inferences about how Mongolia's glaciers changed at the end of the Ice Age, generally. Reconstructing past climate change gives us clues to the pace of climate change occurring now.
Pete is leading the workshops today. It's what Aaron calls the "cascade model" of education.  He taught Pete. Now Pete is teaching University of Maine students Mariah Radue and Nathan Norris. Soon, they will be teachers to other students.
We hike to the top of another moraine. It's hard hiking, straight up with no trails. Large granite boulders jut out of the ground amid bedrock. We sample that moraine, before a smaller group splits off to hike higher, up to roughly 2,760 meters in elevation. The air is thin.
Up high, it's quiet except for a few birds chirping and the slow rumble of the white river in the valley below. I have a direct line of site into the to Potananin glacier. A band of sunlight is gleaming off the ice. That is our destination and our home for the next two weeks, if the weather and everything else allows us access.

DRIVING ACROSS THE VAST GRASSLANDS OF MONGOLIA IN SEARCH OF CLIMATE CLUES
By Kevin Stark
July 1—July 4. After days of organizing, we are ready to leave the city of Ulaanbaatar.
Our caravan will drive for the next four days, covering more than 1,500 kilometers (900 miles) on paved roads when we're lucky, but mainly on gravel, dirt and even sand. We are planning our average speed at 10.3 miles per hour, with a maximum speed 75miles per hour.
At one point, we'll climb to an elevation of 8,300 feet.
Driving out of UB, the traffic flows in interweaving strands of Hyundai vans, large tourist buses, and small cars. We pass neighborhoods with colorful gray, red and blue homes, piles of coal, and a shipping container that had been turned into a restaurant. Soon we've left the city, driving through the open steppe, a high-elevation grassland stretching from UB to the Altai mountains in Western Mongolia.
Ninjin Tsolmon and Purevdorj Purev-Ochir, two students from the Mongolian University of Science and Technology, have joined us and we are guided by Boldoo, Khurola, Tsooboo, Tumur, and Manlai from Hovsgol Travel, a Mongolian fly fishing and travel company.
Ph.D. student Peter Strand poses an observational question for the students to consider during the days of travel. Why do the landscapes look the way that they do? The countryside is defined by rolling hills and peaks that have been rounded by years of rain and wind. In some places, there are sand dunes, and we visit a dormant volcano. "There is evidence that the environment has changed in the past, and water is the main theme," Aaron Putnam says.
The group is constructing a story of past climate, a history of the landscape. Without this story, we are lost in a world as vast as the wide open steppe. "What's your story?" Rebecca Solnit asks in her book "The Faraway Nearby." She writes, "It's all in the telling."
There is plenty of time for storytelling on this long drive. Putnam and Strand's interest in the demise of the last Ice Age is in part to inform our understanding of the story of human-driven climate change now. The Comer Foundation's Scott Travis tells me that he has been telling and retelling this story for two decades. "I feel responsible for the world I'm leaving for the next generation," he says.
Black kites, a predatory bird with a five-foot wingspan, glide above our car. Not far out of UB, we pass a marathon in progress, and a runner descends a hill and runs past a dozen horses. We drive for most of the day, taking a break to ride camels.
Gary Comer College Prep student Destiny Washington rides in the back seat of a black truck. "The drive was bumpy and exhausting, at some points," she says. But Aaron was in the front seat narrating the journey with geological descriptions of the landscape. It was like "having the Discovery channel in the car," Destiny says.
After driving for many hours across the flat and grassy steppe, we pull off the road at the site of a wide canyon. It reminds me of the Snake River in Idaho, a giant gash in the ground that seems to appear out of nothing. It reminds me of a summer I spent in central Idaho leading backpacking trips and hitchhiking during my time off. Now, as then, we sleep where we'd like, pulling off the road and setting up our tents along a creek or lakeshore.
For breakfast one morning we eat hard-boiled eggs and biscuits, ready to get underway. But our van stalls in the parking lot, making a bleating sound similar to the cows that had been grazing around our tents at night. We have a loose distributor, which bent a connecting rod. Tsooboo, from Hovsgol Travel, has a new one and a lift rod in the truck and makes the necessary repairs in a matter of hours. "That's amazing," Scott Travis says.
The group waits in the parking lot eating chocolate pastries and drinking water out of plastic bottles during the repair. Later in the day we stop for a lunch of noodles and pickled vegetables. Scott and Aaron work on flying the drone—an important piece of the program for mapping glacial moraines and providing high-quality images of our field sites. Google Earth has really poor pictures of these places.
The drone has been frustrating and, so far, not functional. Scott struggles with it under the poplar tree. He practiced flying a different one at his home in Wisconsin. That drone entered an automatic flight pattern triggered by a low battery and flew itself into a different poplar tree—prompting an expensive run to the store to purchase the drone we are using now. (Days later, we solve the drone problem to everyone's relief.)
We leave, and the paved road ends, and the new dirt road soon splits into several different paths, all crossing back and forth. Sheep are sleeping and, Erdenee Erdenekhuu, the driver of my truck, honks a few times and they get up slowly and saunter away.
The trucks jockey for the lead, raising a cloud of dust and sand behind us. Khuraa, a driver of one of the other trucks, hits a rut and blows a tire. Fortunately, we have ample spares and it's a quick fix.
Later that afternoon, we stop at a park in the Khangai region, the site of a mid-continental volcano. It's a fresh looking landscape, with new geologic formations in the midst of older mountains.  There are yellow, purple and white clusters of flowers.
"Lava flows contain some of the most fertile land in the world," says University of Maine student Nathan Norris, hiking by large vesicular basalt boulders.
The morning of our last day's drive, we wake up at Hyargas Nuur. The water is salty and I can taste it as I wash my face. For breakfast, we have sardines, sesame biscuits and coffee with real milk. We drive for most of the day. Suddenly, the Altai Mountains come into view. "It's like coming across the plains and then there are the Rockies," Scott says.
The final stretch of our drive is along a river valley – mountain peaks on our right and elm, spruce, and poplar trees lining the Houd River on our left. In the distance, glaciers are on top of black mountains, our destination and home for the next month.
OUR CLIMATE ODYSSEY BEGINS
By Kevin Stark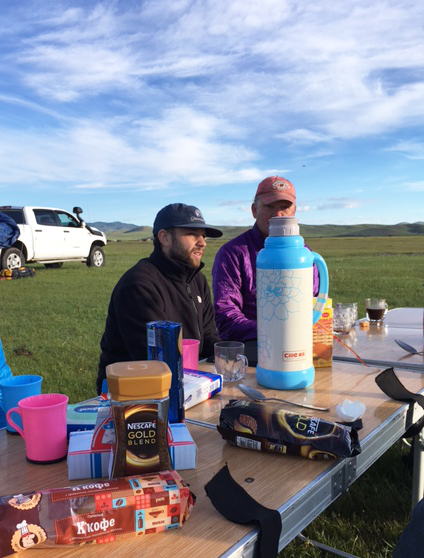 June 30, 2016 – Our journey for a summer of climate change research in the Altai Mountains – where Russia, China and Mongolia all meet – began as our plane descended into the Chinggis Kahn Airport in Ulaanbaatar, Mongolia. Looking out the airplane window, I saw a cluster of ger—traditional homes made of wood and felt—located on the outer ring of the city. The majority of UB's residents live in this expanding district where many of hundreds of thousands of people have left Mongolia's degraded grassland.
In the past century, Mongolia's temperature has increased more than 2 degrees Celsius (3.5 degrees Fahrenheit), twice the global average. Once vast grazing lands are drying up and threatening the country with drought. Many people are fleeing the rural areas, where they have lived for generations to find work in the city.
The expanding ger district is a symptom, in part, of today's warming climate – a telescope into the complicated intersection of cultural and environmental challenges other large cities may face in the coming decades as human-related climate change continues warming at an unprecedented rate.
It's a fitting image for our trip. Our group is beginning a collaborative, intergenerational scientific and educational effort to examine links among climate, glaciers and modern society in the Bayan-Ölgii Province of Western Mongolia. University of Maine's Aaron Putnam leads this expedition, and he has assembled a team of young scientists, students, climate research assistants and guides. Everyone is gathered to study the demise of glaciers at the end of the last Ice Age.
Aaron was awarded an early career development grant from the National Science Foundation to use surface-exposure and radiocarbon dating techniques to develop a chronology of glacial retreat during the "most important natural warming event in human history," approximately 18,000 years ago. The warming abruptly ended the last ice age and Putnam is looking for the switches that cause such climate events. Aaron and his team can detect how and why climate has changed in the past by reconstructing the geologic record found in the ancient rocks of the mountains. In doing so, he hopes to have a better understanding of how our climate is changing today.
I'm embedded as a reporter chronicling the trip to complete my graduate journalism degree at Northwestern University's Medill School of Journalism. I'm here along with Destiny Washington, a 17-year old high school student,  selected from among her peers at Chicago's Gary Comer College Prep to be included in this experience. This is her first time out of the country. "It has been an exciting blur of sleeping and being awake," she said. "I'm just trying to take it all in. The air, the buildings and structures."
Destiny's environmental science teacher Jessica Stevens is with us too, and we assembled in the airport in Chicago and spent nearly two days traveling to Mongolia by way of Beijing. "Going through customs was really different," Destiny said.
"That was the first time I've actually seen you hate something – like I could see it on your face," Stevens said.
"My brain was like, this is too much," Destiny said with a laugh.
Destiny and I will be documenting this trip from the field on the pages of this blog, primarily. But there will be contributions to our coverage as well from Stevens and University of Maine students Peter Strand, Mariah Radue, and Nathan Norris.
Strand is a Ph.D. student—he and Aaron will be leading the scientific study. Putnam likes to say that glaciers are great thermometers. As climate cools and warms, glaciers recede and advance leaving evidence on the landscape in the form of moraines—a glacial "wake" formed with granite boulders that glaciers move around like pebbles.
David Putnam, a geoarchaeologist at the University of Maine at Presque Isle and Aaron Putnam's dad, is with us for the first leg of the journey but will be separating to join a different research team. David is incredibly knowledgeable and has spent his career working in the field – with the stories you might expect from years traversing glaciers. Everyone is a little disappointed that he's leaving. (I think he might be too). "You'll have fun with your new group," Destiny reassured him.
The group has come together over the last few days in UB. I've learned that the field work glaciologists love to pursue is a small percentage of the effort. If our trip were a pie chart, one large slice would read logistics, and another would read unexpected delays. "Science is 99 percent unrelenting work and 1 percent fun; but that 1 percent makes it worth it," Aaron said.
Which is where Scott Travis comes in handy. He works for the Comer Foundation,which has helped make it possible for us to be here. Scott has played a key role as a climate research assistant on trips to Greenland, New Zealand, Patagonia and Bhutan (several with Aaron).
At this point in the trip, we've had several delayed flights, missing bags and a kidnapped drone that was confiscated by security at the Beijing airport. At one point—minutes before our flight was supposed to depart from China to Mongolia—a thunderstorm delayed our red-eye flight for another five hours. "It's a good thing we rushed through security," Aaron said.
But that has passed, and as I write this, we are preparing for a morning departure.
Over the next few weeks, our expedition team will travel to the isolated landscape of the Altai Mountains. This range is a petri dish from which to study the position of these former ice tongues.
Photo at top: University of Maine's Aaron Putnam reviews a road map by headlamp on the group's first night in camp in Mongolia. (Kevin Stark/Medill)