By Jillian Melero,
Dec. 16, 2018 –

Tapping into wind and solar and other green energy technologies, the U.S. can produce 80 percent of its electricity from renewable sources by 2050, compared to 17 percent produced in 2017.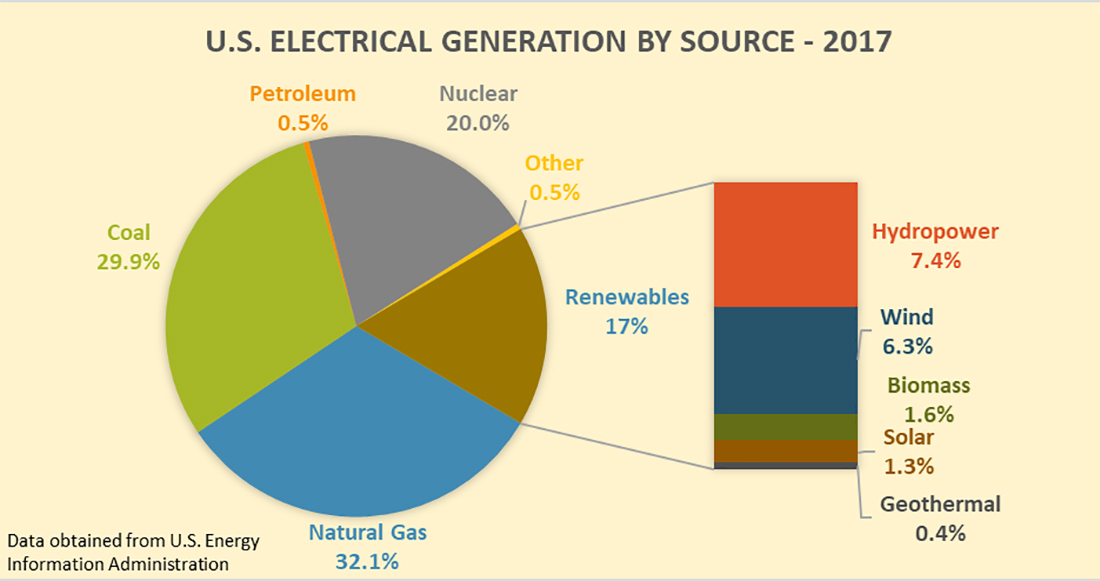 That's the conclusion of a study conducted by the Department of Energy. And the transition is a necessary step to avoid increasing global warming beyond the 1.5 degrees C (2.7 degrees F) of global temperature rise that would bring more extreme climate change. Approximately 1 degree C of global warming has occurred already with industrialization. bring

Click on any image above for the sildeshow.
The Intergovernmental Panel on Climate Change (IPCC) released its  report on the implications of a 1.5 C warming of the planet in October. In order to mitigate the impacts – including more extreme drought, flooding, sea level rise, severe storms, increased wildfires, and more – the panel recommended ending global dependence on coal-generated electricity by 2050 with a two-thirds reduction by 2030 in order to decrease carbon emissions and the production of other greenhouse gases.
The Fourth National Climate Assessment (NCA4), released in November by a collaboration of 13 U.S. government agencies – including NASA, NOAA and the Department of Defense – supports this conclusion.
To achieve this goal, the U.S. will need to establish policy and invest in research and development to produce, store, and transmit energy from renewable sources such as wind, solar, hydroelectricity, or biofuels to meet its needs while reducing carbon emissions.
This development is already underway in the world's fourth-largest economy – Germany.
Energiewende is the German energy transition policy, adopted by the government in 2010. The policy includes the complete shutdown of the country's nuclear power plants by 2022 and utilizing renewable energy sources (RES) wind, solar, and hydroelectricity for at least 60 percent of its energy production by 2050. Germany produced 33 percent of its electricity from renewable resources in 2017, reaching its 2020 goal three years early.
The Institute for Sustainability and Energy at Northwestern (ISEN) took a group of 11 engineering students on a Global Engineering Trek (GET) with a focus on research and development in renewable energy technology and sustainability within the cities of Hamburg and Heidelberg Germany this September.
"Germany is a global leader in energy in sustainability and clean technology, from the top down, from Federal government but also from the bottom up, from grassroots," said Mike McMahon, Senior Communications Manager for ISEN. "It's a great ecosystem for clean technology and a sustainable mindset. The businesses think green, but also the people think green in the way they live and act. So, it's in the public policies but it's also in the businesses and in the daily life."
Hamburg earned the title of "Europe's Green Capital" for 2011 for its environmental efforts and focus on sustainability. The city is home to 190 renewable energy companies, producing, financing and researching wind, solar, biomass, and biogas derived energy. One of those companies, Planet Energy, constructs wind and solar power plants under the subsidiary Greenpeace Energy, a renewable energy provider with the activist profile of its parent company, Greenpeace.
While Germany generated 33 percent of its electricity from renewables in 2017, the majority – 37 percent, came from coal. Hard coal supplied 14.6 and lignite supplied an additional 22.5 percent.
Lignite, also known as brown coal, is one of the lowest grades of coal for energy production. It's a soft coal, abundant and inexpensive to mine, but emissions-heavy. The low energy output means more of it is needed to produce the same amount of energy as some of its higher-grade counterparts. And the cost to transport it makes it impractical to use outside of the areas where it's mined.
"We are strongly opposed to burning more lignite," said Michael Friedrich, press officer for Greenpeace Energy. "There's currently a fight in a region west of Germany, next to Cologne at the river Rhine, where they're trying to stop a utility clear-cutting a forest right next to the lignite mine in order to start mining under the former forest," Friedrich said.
The shutdown of the coal industry is one of Greenpeace's goals. But the company's environmental activism doesn't detract from the realities of a changing economy. "The workers in the mines are asking themselves 'What will our future look like?' I think you have the same questions in the U.S. where Donald Trump is trying to bring coal back. And we have the same questions here with workers, 'what are we going to do when the pit is closed?'" Friedrich said.
For that reason, Friedrich said it's important for the utility company to develop relationships with the local community and work together to develop plans to create new jobs, generate income, generate taxes and help move the economy forward. "So, the coal can go, and they still have a future, but a clean future without emissions," he said.
But nuclear energy may be a necessity to bridge the gap in achieving those clean energy goals. The formerly pro-nuclear Chancellor Angela Merkel chose to end Germany's nuclear program after the Fukushima plant in Japan suffered three meltdowns in 2011. However, critics say that Germany's shutdown of its nuclear plants without first having alternative energy sources in place has made it more reliant on coal and has driven up prices for electricity, according to a report from Politico Europe.
Some U.S. climate scientists including Jim Hansen, director of the Climate Science, Awareness and Solutions program at Columbia University, have called for environmentalists to re-evaluate nuclear as a clean energy option to reduce carbon emissions. Hansen is the former director of NASA's Goddard Institute for Space Studies in New York City.
"The climate issue is too important for us to delude ourselves with wishful thinking. Throwing tools such as nuclear out of the box constrains humanity's options and makes climate mitigation more likely to fail. We urge an all-of-the-above approach that includes increased investment in renewables combined with an accelerated deployment of new nuclear reactors," Hansen stated in a Guardian article co-authored with fellow scientists Kerry Emanuel, Ken Caldeira and Tom Wigley in 2015. Hansen made similar comments in 2016 at a panel on nuclear energy held at the Medill School of Journalism, Media, Integrated Marketing Communications.
Another issue in the transition to renewable energy is storing the surplus energy produced. Wind and solar are fickle supply sources. Some days supply more energy than others. For that reason, research initiatives are underway in the U.S. and abroad to develop high-powered batteries for more efficient ways to store the surplus energy from windy or sunny days for what may literally be a rainy day. But Greenpeace is exploring another alternative.
"If we have 100 percent renewable energy, which is mainly wind and solar power here in Germany, the question of course arises, 'What happens when the wind isn't blowing, and the sun isn't shining – are the lights going out?' No, they are not, because it's possible to store huge amounts of excess green energy in the gas grid," Friedrich said.
He noted that Greenpeace is pioneering the use of "wind gas," or hydrogen gas derived from wind-generated electricity through the process of electrolysis. Electrolysis uses electricity to split water into hydrogen and oxygen in a unit called an electrolyzer. The hydrogen gas can then be stored within the "hundreds of thousands of kilometers" of Germany's existing gas grid.
"We are campaigning for this crucial element of the energiewende in Germany. In our future energy system, we need it as a basis for energy security so even if the wind isn't blowing or the sun isn't shining for longer periods, even for three weeks or so, it can easily be provided from the gas grid and be retransformed into electricity with flexible gas power plants," Friedrich said.
Biogas and flexible gas grids are one potential solution to the storage problem. Another is solar batteries. Northwestern's engineering students also visited one of the wind and solar farms of developer, juwi.
"The solar panels were really cool because you hear about this great technology, these solar panels, but the only problem is [there's] no battery source, and that's something that everyone is looking at right now that definitely piqued my interest," said Godson Osele, who is studying biomedical engineering at Northwestern.
Headquartered in Wörrstadt, Germany, juwi has several international projects. In November, the company contracted with the University of Queensland's Heron Island Research Station – a key research station studying the Great Barrier Reef — to supply the station with high-efficiency solar panels, an integrated microgrid system and solar battery storage facilities. The system is expected to be operational mid-2019. it will supply more than 80 percent of the facility's annual energy needs and will end the station's reliance on diesel-generated power. In July, juwi completed a solar plant for a utility company in the southern Indian state of Karnataka and finalized contracts to build more plants for a South African utility.
While Germany has made strides producing electricity from renewable sources, most of its transportation still relies on gasoline and diesel fuel, bringing emissions reduction to a halt over the last few years.
According to Kraftfahrt-Bundesamt (KBA), Germany's Federal Motor Transport Authority, 66.2 percent of newly registered automobiles were gasoline-fueled, 32.2 percent were diesel-fueled, and less than 1 percent each were hybrid or electric in 2016. In the U.S., 97.2 percent of new car sales were gasoline-fueled, 2 percent were hybrid, and less than one percent each were plug-in hybrid or electric in 2016 according to Edmunds.
One company working to make electric vehicles more accessible is Heidelberger Druckmaschinen.
The city of Heidelberg's carbon dioxide emissions peaked in 1990, making it one of only 27 cities to start lowering emissions, according to the Cities Climate Leadership Group (C40). The city passed an energy control and climate protection program in 1992 further reducing emissions. In 1997, it won the European Sustainable City Award and in 2002 it received the Green Electricity Gold Label for having 25 percent of its electricity used in public buildings come from renewables.
Heidelberger Druckmaschinen, founded in 1850, is a long-time manufacturer of printing presses and printing software. After enduring heavy layoffs and salary cuts throughout the printing industry, the company updated its business model and began manufacturing AC/DC converters for Porsche and Audi in 2012. In 2017 the company began development and construction of the Heidelberg wall box charging station for electric vehicles. The charging station is designed for individual as well as commercial use.
But electric vehicles aren't the only clean energy alternative to gasoline or diesel-fueled vehicles.
Another stop on Northwestern's Global Engineering Trek was The Helmholtz-Zentrum Geesthacht(HZG) Center for Materials and Coastal Research. HZG employs more than 950 scientists, engineers, technicians, doctoral students, apprentices, and administrators. Among the many projects under development at HZG are high performance, lightweight materials for cars and aircraft to help reduce fuel consumption; and new methods of hydrogen fuel storage.
Some of HZG's recent progress focuses on the field of solid-state hydrogen storage for use as a high efficiency, low pollution alternative to fossil fuels. Compared to liquid or gas storage, solid state can store larger volumes of hydrogen in a hybrid tank system, with fewer safety issues such as leaks.
"What I found most interesting was the hydrogen gas fueled car," said Aarij Rehman, an Industrial Engineering student with Northwestern. "It seems like most non-traditional cars are electric powered. So, seeing a different form of a clean energy vehicle really surprised me. Although the vehicles were still in early development stages it was clear the team behind the project was making substantial progress."
The first hydrogen-fuel cell train made news in Germany in September. The zero-emission train developed by French company Coradia iLint, can travel at a speed of approximately 70 miles per hour and utilizes a mobile hydrogen filling station located on a 40-foot-high steel container next to the tracks at a station in Bremervörde.
The transportation sector is one of the largest contributors to carbon emissions and greenhouse gases. Developing clean fuels, fuel storage, and integrating these improvements into public transportation can help countries to reduce emissions and stay below the 1.5-degree C global warming point.
The United States' potential to take lessons from Germany, build on them, and offer some new ones in return means there is hope for a clean energy future. But there need to be policies in place to support it.
"Obviously, you want to bring things like that to America, which is a lot bigger than Germany, but I think it's something we can bring to the United States on a much larger scale," Osele said. [We] hopefully make the right steps to bring it to the level that Germany has, 36 percent of their energy sector is coming from renewable sources. That's something that we can work toward [that] can be beneficial for the earth and for the economy as well."
The NCA4 recommends achieving emissions reductions through a combination of technologies and policies including "increasing the energy efficiency of appliances, vehicles, buildings, electronics, and electricity generation; reducing carbon emissions from fossil fuels by switching to lower-carbon fuels or capturing and storing carbon; and switching to renewable and non-carbon-emitting sources of energy, including solar, wind, wave, biomass, tidal, and geothermal."
The Union of Concerned Scientists agrees that in order for the U.S. to achieve a high renewable future at low costs, to create new jobs, and significantly reduce carbon emissions and water use, the country needs a long-term national renewable energy policy that should include "a national renewable electricity standard or well-designed "clean" energy standard, a price on carbon emissions, and a significant increase in research and development funding."
A Federal Energy Policy Summit to discuss state and national issues related to solar power and energy took place in Washington D.C. Dec.4 – Dec. 6.
Photo at top: The headquarters of Greenpeace energy in Hamburg, Germany utilize rooftop wind turbines. (Jillian Melero/Medill)
Related: Northwestern engineering students return to Germany for lessons on sustainability