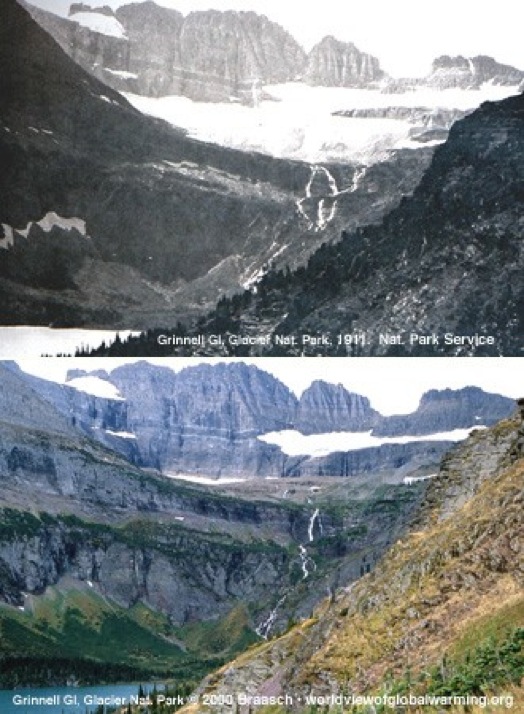 by Tyler Smith
Feb 04, 2010
The small Eskimo community of Shishmaref Island, located off the coast of the Bering Land Bridge National Preserve in northern Alaska, is slowly sinking into the sea.
Made mostly of fine sand and permafrost, Shishmaref Island is especially susceptible to erosion. And as temperatures rise with global warming, the island continues to dissolve into the ocean. Today, a massive project is underway to relocate the island community to a new, mainland site.
Climate change is taking a toll at other national parks- even the nearby Indiana Dunes- but perhaps one of the most striking examples of global warming can be found in Montana's Glacier National Park.
Paul Ollig, the science liaison for Glacier National Park and a speaker at Tuesday's Environmental Policy and Culture lecture at Northwestern University, has seen these effects firsthand.
Grinnell Glacier, the most famous glacier in the park, will likely lose its designation as a glacier in the next 10 years, Ollig said. It has been retreating steadily since photographs were first taken in 1938.
"To go to Glacier National Park and not see a glacier is something that has never happened in the history of the park," Ollig said.
It is currently estimated that all of the glaciers in Glacier National Park will be gone by 2020. "We're going to lose that visitor experience," he said.
Glacial retreat- the process of glacier's disappearing- is only one concern in the minds of national park scientists. Climate change has also been linked to an increased number of wildfires, the introduction of harmful, invasive species moving north from warming areas, and changes in animal migration patterns- all of which threaten the park's delicate ecosystems.
Take, for example, the ptarmigan- a small bird commonly referred to as the snow chicken. As the warming climate melts snow in Alaska's national parks, the ptarmigan's white camouflage is rendered useless. The birds become sitting targets for predators- and they're disappearing quickly.
The proof of these effects, according to Ollig, is in the parks. "What national parks can provide for this discussion is the proof that it's happening right here and it's happening right now," he said.
"By people coming to experience these parks, they're able to see that for themselves and then they have a stronger connection- a personal relevance- to this issue," Ollig said.
At the Indiana Dunes National Lakeshore in Porter, In., the closest national park to Chicago, Assistant Chief of Natural Resources Brenda Waters says she is expecting climate-related changes in the area as well.
"We're concerned about migrating birds- their timing is probably going to be off- maybe the insects they feed on aren't on the same time now," Waters said.
The location of the national park makes it one of the first stops for migrating birds once they get over Lake Michigan. This makes the Indiana Dunes a vital feeding ground for birds- and one that will be affected by climate change.
Waters said that much about the impact of climate change on national parks is still unknown. But, steps are being taken to learn more. "The park service on a whole is working to find out how climate change is affecting out parks," Waters said.
According to Ollig, the first step to conserving our national parks is understanding what is happening to them. "If people don't love these resources, they're not going to want to protect them," he said.
"Our ultimate goal isn't to change people's minds [about climate change]," Ollig said. "Our ultimate goal is to get people to love these places so that they will protect them. If loving those places means understanding and accepting the science of climate change, great."
Related Links