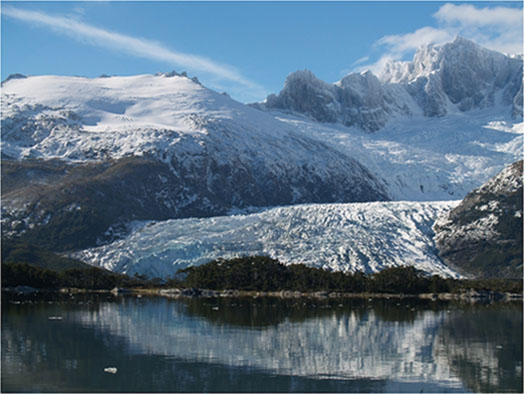 by Sarah Kramer
Nov 28, 2014
Despite warming temperatures worldwide, scientists are exploring Earth's ancient cold snaps. Researching how past ice ages ended can reveal clues about our planet's future. 
Some of the evidence suggests that we might be overdue for an ice age, in fact, according to glaciologist Brenda Hall of the University of Maine. 
Hall's research shows that ancient glaciers might have retreated rapidly as part of Earth's natural pattern of ice ages. The Earth's previous warming periods and the current one can be traced to a global rise in air temperature—with one key difference. 
"One was a big, end-of-the-ice-age warming," said Hall, whose team conducted the research in the Tierra del Fuego, Chile. "The other is warming over the last century, some of which is natural warming and some of which is human-induced." 
Most of this human-induced warming is related to carbon dioxide, a greenhouse gas that traps heat in the atmosphere. Gasoline, coal and natural gas are all carbon-based and burning them for fuel emits carbon dioxide. 
Things can change fast. Ice sheets in the Andes melted down to modern glaciers "in less than a thousand years, which, from a geologic point of view, is really fast," Hall said. Hall, an associate professor at the University of Maine, presented her research at the Comer Conference on Abrupt Climate Change in Wisconsin earlier this October.
Her research set out to discover how and why ice ages ended in the Southern Hemisphere, using glaciers in the Cordillera Darwin range of the Andes at the tip of South America. These high mountains still host remnants of a massive ice sheet from the last ice age. The research used geological features and peat bog cores to date the start of a warming period that led to the end of last the ice age 18,000 years ago. 
The ice melted much faster, as it turns out, than scientists had thought. According to Hall, the ice sheet was so extensive at end of the ice age that its mass became unsustainable. As the ice became unstable and air temperature began warming, the glaciers made a rapid retreat. 
While scientists know that the Earth goes through periods of warming and cooling, and that the human contribution to climate change is now causing more dramatic warming, not everything is clear. Hall said scientists are still trying to understand the Earth's "natural climate variability" in order to better predict the effects of human-driven climate change. 
One such effect may be that human-caused warming is delaying an overdue ice age. Hall's research dated the beginning of the end of the last ice age to 18,000 years ago, but "interglacials" — the periods of relative warmth between glacial periods of an ice age—usually last only 15,000 years, meaning we're overdue for another cold snap.
Hall emphasized that this hypothesis hasn't been proven but it is one possible effect of humanity's massive release of carbon dioxide into the atmosphere over the last two centuries. 
"Eventually, the Earth will do what the Earth wants to do," Hall said. "If it's scheduled to go into an ice age it eventually will. But it might be delayed" due to warming temperatures. 
Scientists don't really know why the entire planet enters or leaves ice ages at the same time, despite seemingly opposing climate conditions in the northern and southern hemispheres. This opposition of the poles means that when conditions in one hemisphere seems ideal for an ice age, conditions in the other hemisphere's may be unfavorable to a global freeze. However, the planet still seems to phase in an out of ice ages as a whole, not in hemispheric pieces. 
"That is the big ice age mystery," Hall said. "We just know that it went from a full glacier to no glacier almost overnight, geologically speaking."
Hall is looking at the current rapid melting of the West Antarctic ice sheet that is contributing to rising sea levels.