by Chris Bentley
Mar 15, 2011
A string of once majestic tidewater glaciers named for major American universities including Northwestern are melting quickly despite the intense interest in climate science at many of their namesake schools. 
More than a dozen glaciers bordering the aptly named College Fjord in Alaska's Prince William Sound bear the names of colleges that explorer Edward Harriman considered worthy at the time of his 1899 expedition. They include the Amherst, Harvard and Yale glaciers, though their mentor, Harriman, did not go to college. 
Northwestern University's own namesake resides about 125 miles west of the frozen ivy league, along the Kenai Peninsula. It was named by Northwestern professor Ulysses S. Grant (of no relation to the 18th President) in 1909, the year Harriman died. Grant became the chair of the university geology department in 1899. He would have celebrated his 144th birthday on Feb. 14. 
"It was a period when glacial studies were a new and exciting thing," said Seth Stein, a Northwestern University geology professor. "It was common to name them after peoples' universities." 
The glacier was, "with its surrounding lofty peaks, the most striking scenic feature on the southern shore of the Kenai Peninsula," wrote Grant in a 1913 U.S. geological survey bulletin coauthored by expedition companion Daniel F. Higgins. But less than a century later, Northwestern glacier has receded more than six miles towards its origin in the Harding ice field. 
"It is melting at a considerable rate," Stein said. 
In a letter dated June 1, 1909, William Albert Locy — the biologist for whom Northwestern's current earth and planetary sciences building is named — asked Grant to bring back with him "a few large gold nuggets … for distribution among your friends." 
Locy, who confessed to be proctoring an exam while writing the letter, conceded, "The likelihood of your doing so seem to me very remote, but it would conform with the fairy-like view that some of us have of the opportunities in Alaska." 
The scene Grant described in the bulletin of the U.S. Geological Survey turned out rather fairy-like after all. 
"Eight or 10 miles from the water several peaks stand out above the edge of this ice field, and from the vicinity of these peaks ice streams descend rapidly to a wide, low valley, which the main glacier follows to the sea." 
A photograph Grant took from Harris Bay in July 1909 shows the glacier within 1,500 feet of its heyday boundaries during the Little Ice Age — a mild cooling period that lasted from approximately the 16th century into the 19th century. 
Grant surveyed the forests set on either side of the glacier in 1909 and concluded that it was "some 10 or 15 years ago about a quarter of a mile in front of its present position." His observations to this effect were validated by subsequent studies. 
Bruce Molnia of the USGS got an unobstructed view of Northwestern lagoon when he revisited Grant's vantage point 95 years later — by 2004 the glacier had retreated out of sight. 
Photographs were uncommon during Grant's time, even novel enough that he made a point of their "great value in the study of future fluctuations of these ice streams" in his 1913 bulletin. That he could have imagined the glacier's six mile retreat into the mountains since seems unlikely.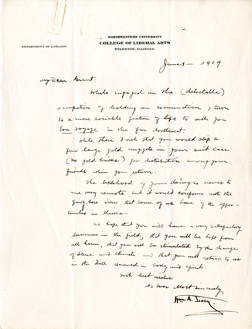 Losing all that ice diminishes the environmental benefits of glaciers, which regulate regional surface temperatures and serve as a check on sea-level rise. As climate models make predictions for coming generations, images of dwindling glaciers impart a sense of urgency often lost on a geologic time scale, said Stein. 
"If you're trying to decide if your diet is working, day to day it's hard to tell," he said. "But over time you get a better picture." 
In that sense, he said, glaciers are a very good way to gauge climate versus weather. Temperature measurements fluctuate rapidly, but averaging out over much longer "you can see the absolutely enormous change" in ice mass. 
The disappearance of glaciers could also be a blow to the work of geochemists, such as Patricia Beddows, assistant chair of Northwestern University's Department of Earth and Planetary Sciences. 
"We need that isotopically light water," she said. The relatively light oxygen-16 isotope — which makes up the vast majority of oxygen in nature — evaporates more readily from seawater, while its heavier kin oxygen-18 condenses over tropical waters. Glacier water, therefore, contains a higher proportion of 'light' oxygen than ocean water. 
In addition to helping paleoclimatologists determine the size of a glacier throughout geologic time, Beddows said the light glacier water can help calibrate instruments in isotope geochemistry labs. While she doesn't have an expedition planned, Beddows said it would be fitting to use samples from the Northwestern glacier. 
Grant concluded his survey without "uniform evidence as to a general retreat or a general advance [of Kenai Fjord glaciers] within the last half century." He said "the general balance between retreat and advance cannot be accurately determined by data now at hand." 
But a 1998 study for the Geophysical Institute could. Using a flyover GPS laser-measuring system, Gudfinna Adalgeirsdottir and colleagues assessed that the entire Harding ice field had shrunk more than 70 feet in the previous 40 years.
Related Links
Click to see a map charting Northwestern glacier's decline since Grant's 1909 photography